TO

THE

FUTURE

: Library assembles time capsule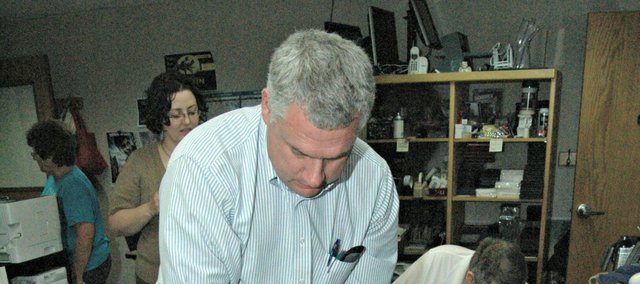 Some future Tonganoxie residents might get a bang out of more than fireworks on Independence Day 2099.
Jim Morey, special projects librarian with the Tonganoxie Public Library, spearheaded the creation of a time capsule to be opened that day.
He selected the date because it will be 200 years after the first Tonganoxie Public Library board meeting, July 4, 1899.
The wooden capsule measures roughly 18 inches by 24 inches. Morey's son, Burt, built the capsule, while another son, Pat, who works for Leavenworth County Emergency Medical Service, provided some literature about EMS to include in the capsule.
"You go where you can get your help," Jim Morey joked.
Tonganoxie police and fire departments also submitted information for the capsule. Some submissions covered the history of Tonganoxie, including John Cass Lenahan's "Peek into the Past: A Photo Essay of Early 20th Century Tonganoxie."
Other categories focused on daily living, such as Tonganoxie restaurants, current currency, social networking and the library staff's favorite recipes. Information from Tonganoxie USD 464, such as letters from Tonganoxie Elementary School fourth-graders, Tonganoxie High School graduate listings from 1901-2011 and a letter from Superintendent Randy Weseman were placed in the capsule.
Library director Kelly Fann said the project started as a capsule for the library, but it gained interest from the community and was transformed into a time capsule of Tonganoxie.
"He reached out to all sorts of people across the community to throw some stuff in there," Fann said. "He even made me write a letter."
Fann noted the project gained national attention. Other library officials from across the country saw an online Mirror story about Tonganoxie Public Library's plans for a time capsule. Other libraries, including one in Minnesota, contacted Morey to get ideas for their own capsules.
In addition to literature, a cell phone, a 35mm camera, a driver's license, a Kansas map, newspapers, a harmonica, a battery-powered analog wristwatch and a Tonganoxie telephone directory were placed in the capsule, to name a few items.
Morey said he enjoyed organizing the capsule's contents and praised Fann for being on board with the capsule.
"Nothing would have happened if she hadn't bought into it," Morey said.
The capsule will be placed in a storage area near the genealogy section. Fann said organizers discussed burying the capsule in the ground, but with the possibility of a new library being built someday, they opted to make it a mobile capsule.