Leavenworth church picks Basehor as site of first 'plant'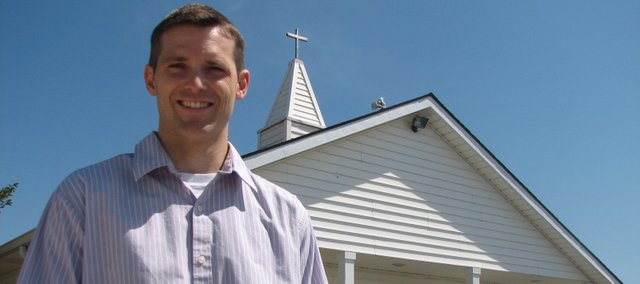 In an era when "mega-churches" with thousands of members are common, the Rev. Jay Lickey says, his church didn't want to go that route.
Instead of growing to a huge size itself, Church of the Open Door in Leavenworth aims to "plant" more modestly sized churches in surrounding areas, Lickey said. And it's planting its first seed next month in Basehor, when Open Door Fellowship will begin services with Lickey as pastor.
"This is the first one, so this is kind of a big deal for us," said Lickey, who for the past seven years has been associate pastor at the nondenominational Leavenworth church.
Open Door Fellowship will have services at 10:30 a.m. and 6 p.m. each Sunday, with Sunday school at 9:15 a.m., starting Aug. 5. Its location is the former Risen Savior Lutheran Church building at 14308 Fairmount Road in Basehor, near the Field of Dreams sports complex.
"A lot of church plants will start out in homes or schools, which is good," Lickey said, "but we're going to be starting out in a church building, so all the better."
The Leavenworth church picked Basehor as the site for its first plant because the building was available, Lickey said, but also because leaders believed there were people there to reach in the growing southern portion of Leavenworth County.
"There's a lot of people and not a lot of churches," Lickey said.
A number of members will come from the Leavenworth church to help get things off the ground in Basehor, Lickey said. One of those is David Hoppes of Leavenworth, an elder at the church who has been a member along with his wife for about three years.
Hoppes said it would be difficult for them to leave a church where they enjoyed the other people and the strong focus on Bible teachings, but they wanted to do what they could to help the new church succeed. Lickey's leadership will help, he said.
"I think the people that come will find they like him a lot and want to come back," Hoppes said.
Lickey said the church would be true to its name: It would welcome all sorts of people, rather than pursuing a particular demographic.
"We are an open door," Lickey said. "We want any and all to come."
The church's immediate goal will be to grow large enough to stand on its own, Lickey said. But both he and Hoppes said they hoped that, ultimately, things will come full circle.
"Down the road, hopefully, we'll get to a size where we, then, can plant another church," Lickey said.
For more information on Open Door Fellowship, visit the church's website, odfellowship.org.