Rachford to continue running career at Allen County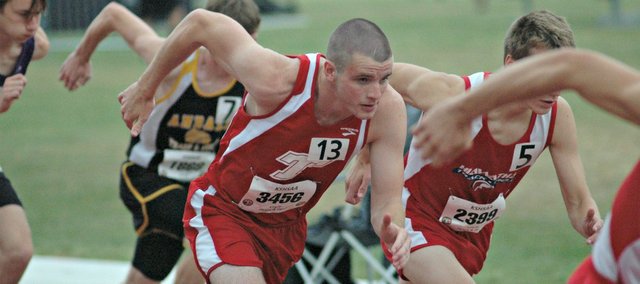 Halfway through his high school career, Patrick Rachford realized he had a knack for distance running. Two years later, he made sure everyone knew it, too.
Rachford, a 2012 Tonganoxie High graduate, ran on the cross country team for four seasons. However, he didn't really give 100 percent during his first two seasons. He went to practices and competed in races, but admittedly never put forth much of an effort.
Following his second season, though, things began to change.
"My freshman and sophomore year, the coaches said I had potential," Rachford said. "I kind of slacked off my sophomore year, but that got me motivated to run. Going into my junior year, I ran the whole summer and started finishing top-five in every race."
Rachford's increased work ethic not only helped his individual times, but paid dividends in the Chieftains' success as a team as well. As a junior, he helped lead THS to its first state appearance since 2006.
The team placed 12th that year and returned to take seventh last season.
"In cross country, there aren't very many kids who really become distance runners mentally," THS coach Phil Williams said. "They work hard, but not very many of them do all the necessary work. Patrick, all of a sudden, clicked over and started running a lot of miles."
College programs began to take notice of Rachford's times — particularly during his senior season. Following a meet last season at Lawrence's Rim Rock Farm, he was approached by Allen County Community College coach Vince DeGrado.
"I liked his build and his mentality when he ran," DeGrado said. "He has kind of a reckless running mentality. When you take a guy with his mentality and put them in a proven system, those guys will flourish."
Rachford kept in touch with DeGrado throughout the winter and eventually signed a letter of intent to run for the Red Devils. He chose ACCC over other schools within the state, including Ottawa University and the University of Saint Mary.
DeGrado, who led the Cowley County Community College men's and women's cross country teams to national championships in 2010, said he wouldn't be shocked to see Rachford earn a spot in the team's top-seven before his first collegiate race this fall.
In addition to cross country in the fall, Rachford will also run in distance events on the Allen County track and field team. He's no stranger to track season, as he ran for the Chieftains each of the last two seasons and participated in the 1,600-meter run at the 2012 state meet.
He holds the distinction of being a three-event state participant, as he was also a member of the Chieftains' state debate team.
"That just shows what Tongie has allowed me to do in debate as well as in athletics," Rachford said. "Tongie has really helped push and coach me into the area I want to be. It's great that they were able to do that."
Rachford hasn't taken his college preparation lightly, as he's run 8-10 miles per day in the summer heat. He estimated he'll run as many as 60 miles per week in college — a significant increase from the 25-30 required in a high school program.
However, according to Williams, Rachford's determination and work ethic should make for a seamless transition.
"I know he runs a lot on his own," he said. "He was probably putting in close to 40-45 miles in high school. "I think his mental preparation as well as his physical preparation will allow him to jump up with no problems."
Rachford will report to Allen County's Iola campus in early August. The Red Devils will open their 2012 schedule on Aug. 24 when they host the Kings Sandwich Duals.