Titterington represents Chieftains at All-Star Game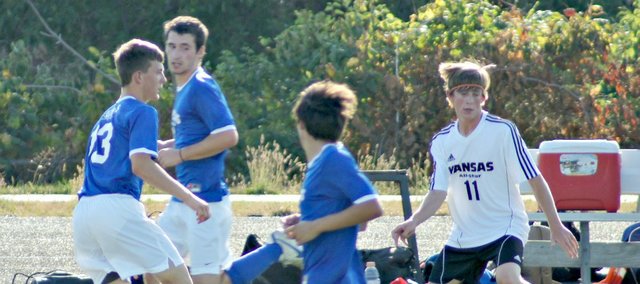 Marcus Titterington is getting closer and closer to his debut as a college soccer player, but last weekend, the 2012 Tonganoxie High grad got one more chance to take the field as a high school athlete.
Titterington, a Kansas City Kansas Community College signee, participated in the Kansas Soccer Coaches Association All-Star Game Saturday at the Olathe North athletic complex. The teams were comprised of 2012 seniors who earned All-State honors or honorable mentions last fall.
"I found out (I was selected) a little over a month ago," Titterington said. "It was definitely good when I found out I'd be able to play. I've been practicing and getting ready to play (in college). A lot of it has kind of been on my own."
Despite Tonganoxie's location, Titterington was selected to the west team. The east squad contained players from other area schools, including Baldwin and Bonner Springs.
West held a 1-0 lead at halftime, but east took control in the second half and cruised to a 4-2 victory.
Even after battling the heat and sharing the field with several unfamiliar faces, Titterington was grateful for the chance to represent the Chieftains among the state's elite.
"It was really fun," he said. "All the guys were really good, so the competition was definitely there. It was good to kind of play a high school game against all the top players in the state."
Titterington, who played center defender during his high school career, was a key player on last year's regional championship team. He also ran track and cross country at THS.
With the KCKCC schedule fast approaching, Titterington said he'll continue conditioning and fine-tuning his defensive skills. He'll report to campus when the team begins practicing next week.
"I've definitely been doing a lot of running and trying to get back in shape," Titterington said. "I just came out of track season in high school, so I've been exercising and trying to get some touches in on my own."
The Blue Devils will open their 2012 schedule on Aug. 23 when they play host to Metropolitan Community College-Blue River.