Yates finds success at Emporia tournaments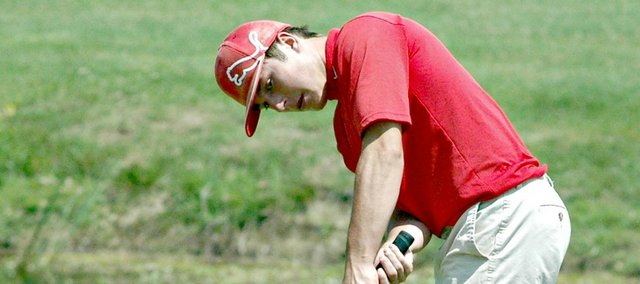 As Colby Yates continues preparation for his first college golf season, success keeps coming on the links.
Yates, a 2012 Tonganoxie High graduate and University of Missouri-St. Louis signee, competed in a pair of Kansas Junior Golf Association tournaments last week at Emporia Municipal Golf Course. He won the junior section team championship and took second in the junior match play championship.
Golfers battled a stiff wind when the section team championship began Monday. Yates shot a 1-over par 73, putting him in a three-way tie for third. He came back with a 1-under 69 in the second round, giving him the overall title with a 142.
"I've played the course quite a bit," Yates said. "It got a little windy the first day, so I was pretty happy with a 73. I knew I was still in it."
Following the conclusion of the team championship, Yates squared off against some of the state's top youth golfers in the match play championship. The 16-player field was comprised of the top available players in the KJGA Player of the Year points standings.
Yates entered as the top-seeded player in the tournament, which was played in a bracket format.
A strong start propelled Yates to relatively easy wins in the first two rounds, but he needed all 18 holes to defeat Zach Kirby of Dodge City in the semifinals. Yates won the match by a stroke, earning himself a spot in the finals.
"My first two matches weren't too bad, but my semifinal match was a great match," Yates said. "We were going to 17 all square, then I made a birdie and (Kirby) made a par."
Those fortunes were reversed in the finals, as Yates couldn't hold a late lead against Preston Fleenor of Mission Hills. Yates led by two strokes after 12 holes, but ran into some trouble on the 13th and 14th and couldn't recover.
With the pair of top-two finishes, Yates moved into first place in the Player of the Year standings with 602 points. He passed Sam Stevens of Wichita, who currently has 516 points.
Yates is currently competing in the Kansas Amateur match play championship at Newton's Sand Creek Station Golf Course. The KGA tournament field is comprised of youth, college and adult golfers from across the state. Action will wrap up on Sunday.