T-Bones can't back Rainwater's complete game in loss to Saints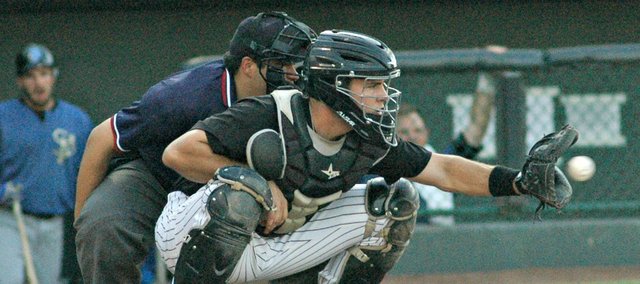 Kansas City, Kan. — T-Bone starter Josh Rainwater was red hot on the mound Thursday night. Unfortunately, the same couldn't be said for his offense.
Rainwater allowed just one earned run on two hits in a complete game, but got no run support in a 3-0 loss to the St. Paul Saints at CommunityAmerica Ballpark. Kansas City (35-31) only mustered five hits and went a combined 0-for-4 with runners in scoring position.
"When you can't string three or four good at-bats together, you can't score runs," manager Kenny Hook said. "How many hits you get really doesn't matter if you can't do something with them."
The Saints (34-30) managed just two infield singles off Rainwater — one in the first and another in the second. They took the lead on an RBI fielder's choice by Miles Durham in the second, but the T-Bone right-hander settled down and retired the next 14 hitters in order.
A pair of defensive mishaps led to two more St. Paul runs in the seventh. Following a leadoff walk, shortstop Devin Goodwin couldn't handle a potential double play ball. Both runners advanced on a groundout and came around to score on back-to-back fielder's choices by Tanner Townsend and Durham.
Despite his solid outing, Rainwater was saddled with the loss, dropping him to 4-6 on the season.
"It's actually pretty disappointing when you give up two hits and don't get a win," Hook said of Rainwater's performance. "They didn't square him up at all. The defense made a couple mistakes and didn't turn the double play, and that's the difference in the game."
The T-Bones will continue their homestand at 7:05 p.m. Friday when they open a three-game series against the Grand Prairie AirHogs. The teams split a four-game series July 20-23 in Grand Prairie.
"This will be the third time we've played (the AirHogs) and we've had pretty good success against them," Hook said. "We know their hitters and how to pitch to them. We've got to really get back to being able to hit with two strikes and have good at-bats."
Score by inning
St. Paul 010 000 200 — 3 2 0
Kansas City 000 000 000 — 0 5 1
ST. PAUL: 2B — None. 3B — None. HR — None. RBI — M. Durham 2, T. Townsend. SB — J. Hernandez. E — None.
KANSAS CITY: 2B — E. Cruz, D. Goodwin. 3B — None. HR — None. RBI — None. E — D. Goodwin.
WP — R. Coe (8-3). LP — J. Rainwater (4-6). S — D. Klabunde (9).