Legion baseball team wraps up 2012 season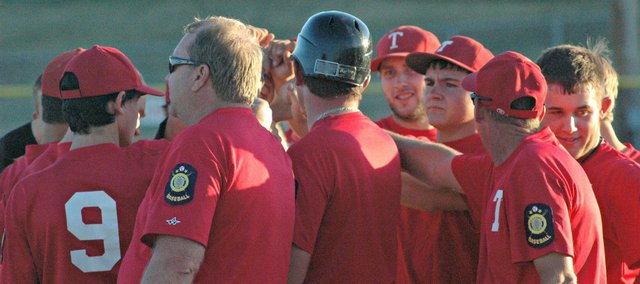 The Tonganoxie American Legion baseball team didn't have the strong end of the season it was looking for, but improvement was still evident across the diamond.
The team wrapped up its season last week with back-to-back losses in zone tournament action in Pittsburg. Tonganoxie opened tournament play Thursday with an 18-12, nine-inning loss to Lawrence, then was eliminated Friday with a 14-2 loss to eventual tournament champion Pittsburg. Tonganoxie finished the season with a 14-22 record.
"We had a lot of young kids. Several of them were 14 and 15 years old," coach Butch Fosdick said. "Last year, there were a lot of older kids and seniors who had graduated. This year, there wasn't as much experience, but our young kids really came around and played well."
The 2012 team was comprised mainly of players from Tonganoxie High and McLouth High. Fosdick, who had never coached Legion ball before, assumed the role of head coach just before the start of the season. A.J. Gilbert and Jerry Woods served as assistant coaches.
The season was a growing process for players and coaches alike, but according to Fosdick, the team was in much better shape at the end of the season than it was in the beginning.
"We were only able to get two or three practices in before games actually started," he said. "They were all kids I didn't know except for my son. We had a couple kids who were a little bit older decide not to play. That kind of hurt, but the younger kids, they improved a tremendous amount."
Several players will return to the field with their respective high school teams in the spring. With nearly 40 more games under their belts, Fosdick hopes that added playing time will serve them well down the road.
"They got a lot more experience," he said. "When you get 30-some games, that's twice as many as they play in a season in high school. They get more at-bats and just experience of being in the field."