More than 100 turn out for youth football camp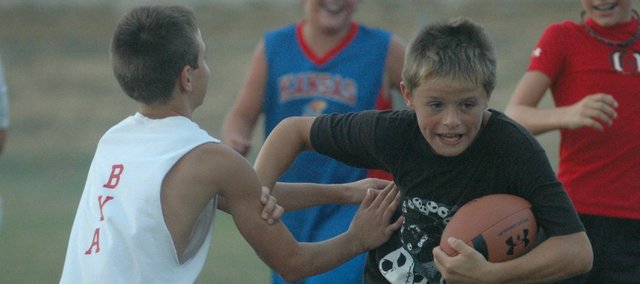 Photo Gallery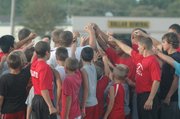 Tonganoxie youth football camp
Tonganoxie High played host to a four-day youth football camp last week at the THS practice field. More than 100 kids gathered to go over basic fundamentals and various drills.
The summer heat did nothing to damper the excitement for the upcoming football season, as 114 local kids flocked to the Tonganoxie High practice field for last week's youth football camp.
The four-day camp, put on by Chieftain coaches and players, as well as area youth coaches, gave kids ranging from kindergarten to sixth grade the chance to work on basic fundamentals of the game, as well as drills designed for specific positions.
"We had more than 10 kids per grade, so that was awesome," THS head coach Al Troyer said. "We moved camp back to where it would be a little cooler when it started, and it was an hour and a half that just flew by each day.
"We tried to teach them the same skills. It's based on fundamentals. We went through circuits where we had about 10 kids and rotated them around. Everybody got to do everything."
Following circuits, kids broke into groups by position and switched their focus to skill-specific drills.
Troyer, who was hired as the Chieftains' head coach in April, emphasized the importance of having current high school players on hand, noting that the younger kids naturally took a liking to the athletes who led the circuits and drills.
Additionally, Troyer admitted it makes things easier for high school coaches when they can instill their program's values into kids well before they take the field as high school athletes.
"That's huge. If you get them in the system from the time they're in first grade, then it just becomes easier and easier as the years progress," he said.
This year's Chieftain team will officially open the 2012 season when it begins practice on Aug. 13.