THS

boys wrap up summer basketball camp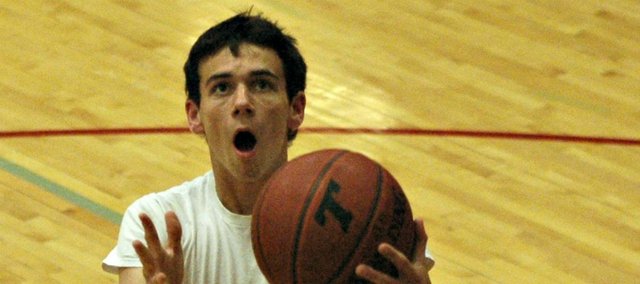 The start of the 2012-13 basketball season is still several months away, but that hasn't stopped players from flocking to the Tonganoxie High gymnasium.
The Chieftain boys wrapped their four-day summer camp Friday, capping off a preview of a new-look squad that must replace five seniors from a year ago.
"The team is going to have a very different feel to it," coach Shawn Phillips said. "We really only have a few guys that have played major varsity minutes (last season), so we'll be looking at a lot of new faces."
Four 2013 seniors will look to lead this year's squad. John Lean and Josh Ghale are the Chieftains' most experienced returners, as both saw time in all 22 contests last season. Lean started 21 games and averaged 10.2 points per game. Ghale recorded 13 starts and averaged 4.1 points per game.
Lean, who also dished out four assists per game in 2011-12, stressed the importance of less experienced players learning from their veteran teammates during the offseason.
"(This week) was their first time playing with varsity, so that was good," Lean said. "They're starting to learn from the high school view. We've got a lot of younger kids stepping up. We're going to be a young team."
Other seniors are Keaton Truesdell and Lansing transfer Blair Mathisen.
Some players may have seniority and more experience than their teammates, but according to Phillips, all varsity spots are still up for grabs.
"We've got people at all grade levels that could possibly contribute to the varsity team," Phillips said. "That's exciting that we've got some depth at lots of different grade levels to fight for those positions.
"This week, we tried to spend some time evaluating different people to see how much they've progressed. We put people in different spots to try to get a feel of who might be able to contribute."
Incoming freshmen also got their feel for the high school game this week. While Phillips said they were taught most of the high school schemes and team philosophies at the middle school level, the camp allowed coaches to work with players on a more individual basis.
Players will have more chances to make their cases for a varsity spot this summer, as THS will compete in Rockhurst University's high school league each Monday in June. The Chieftains will open league play next week with games against Shawnee Mission North and Van Horn High School (Independence, Mo.).