Tonganoxie council member, former administrator facing off in Leavenworth County Commission race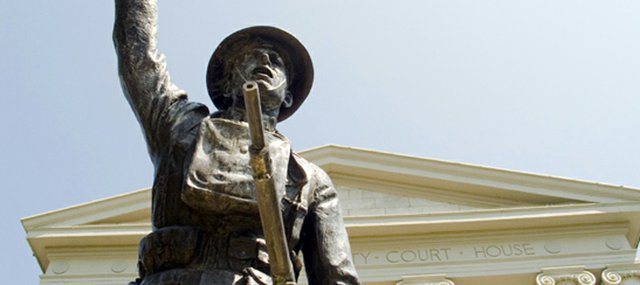 Other county races
Candidates for Leavenworth County offices were set Friday. Here are the others:
• In the sheriff's race, Andy Dedeke, a rural Easton Republican, will meet Burdel Welsh, a Tonganoxie Democrat. Dedeke, 41, serves as captain in the sheriff's office; Welsh worked two stints in the sheriff's office, including five years an undersheriff. Dedeke, 41, filed for the seat in February; Welsh, 55, a former Tonganoxie City Council member, filed Thursday. Sheriff Dave Zoellner, a Leavenworth Democrat, did not seek re-election.
• County attorney: incumbent Todd Thompson, 36, (R-Leavenworth), against Patrick Cahill, 55 (D-Leavenworth).
• County treasurer: incumbent Janice Dickson, 46 (R-Leavenworth), against Thomas Koch, 50 (D-Leavenworth).
• County Commission, 2nd District: incumbent Clyde Graeber, 78, Leavenworth Republican, takes on challenger Ralph Dix, 66, Leavenworth, in the Aug. 7 primary. The winner will meet Leavenworth Democrat Donald Terrien, 37, in the Nov. 6 general election.
• County Clerk Janet Klasinski, 52, a Leavenworth Republican, and Register of Deeds Stacy Driscoll, 45, a Leavenworth Democrat, will both run for re-election unopposed.
The race for the Leavenworth County Commission's 3rd District seat will pit a former Tonganoxie city administrator against a city council member who voted to remove him from his job.
Council member Dennis Bixby, a Tonganoxie Republican, will face former administrator Mike Yanez, a Tonganoxie Democrat, in the Nov. 6 general election. The deadline to file for county offices was Friday.
The 3rd District covers the area south of Dempsey Road and includes Tonganoxie and Basehor.
Yanez was city administrator in Tonganoxie from 2005 until last month. In August 2011, Bixby joined two other city council members in voting not to extend his contract, which expired in December. Yanez stayed on the job until the council could hire a replacement.
Both candidates said their past would not be an issue in the election.
Bixby, who filed for the race in March, said he could not comment on his decision not to renew Yanez's contract. What will matter in November will be who voters decide will do a better job as county commissioner, he said.
"I'm sure it will be a spirited debate," said Bixby, 51.
Yanez, 62, filed for the race Thursday afternoon. He said he decided to run because he wanted voters to have options.
"I think for a position as significant as it is, people need to have a choice," Yanez said.
He said he also filed because the commission seat would allow him to continue working in public service. His 30 years of experience in the area, he said, would serve him well.
"Public service is what I enjoy doing," Yanez said.
Bixby said he had educated himself a great deal about public service through his work on the Tonganoxie City Council and a number of workshops and courses, and he was ready for the time commitment required for a commission seat after already devoting about 25 hours per week to his council work. But most of all, he said, he wants to help make the county a better place.
"The main reason I'm doing it is that Leavenworth County has been very good to me, and I just want to pay that back," Bixby said.
Yanez and Bixby both said they want to focus on growth and development of the county.
"I think Tonganoxie and Basehor are really poised to be the growth engines of Leavenworth County," Bixby said.
And Yanez said it was vital for the county to look ahead because surrounding counties —Douglas, Wyandotte and Johnson — are competing for businesses and residents.
"We are not in a position to step backwards," Yanez said. "We are not in a position to stagnate."
The salary for county commissioners is about $40,000. The winner of the 3rd District race will replace John Flower, a one-term Basehor Republican who announced last month he would not seek re-election.