McLouth hosts annual
BBQ

Blowout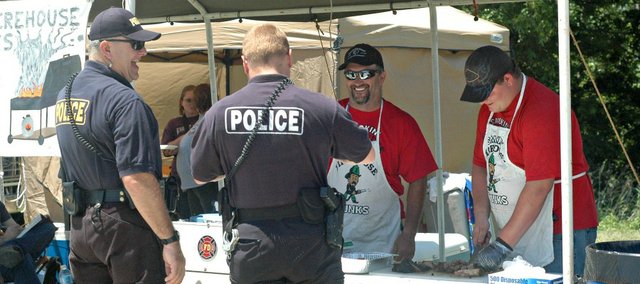 Photo Gallery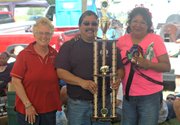 McLouth BBQ Blowout
McLouth hosted its 21st annual BBQ Blowout Saturday in Prairie Park.
McLouth — If the smell of barbeque is a true indicator of summer's arrival, then summer hit the town of McLouth in full force on Saturday.
Local families and meat enthusiasts flocked to Prairie Park to watch 26 teams fire up their grills for the 21st annual McLouth BBQ Blowout. In addition to the yearly contest — an event sanctioned by the Kansas City Barbeque Society — those in attendance were treated to an exotic petting zoo, on-site helicopter landings, model airplane demonstrations and more.
"There's some fun stuff for the kids to do," said Aaron Palson of Lawrence. "They've been doing this for 21 years and I know it's a big deal for the community. It's the big summer kickoff."
Palson, who used to teach in McLouth, served as a judge for the sixth straight year. He was one of 30 judges who rated teams in five categories: chicken, pork ribs, pork, brisket and sausage.
Judges rated each category based on appearance, taste and tenderness. Palson said each judge received some training prior to the judging process.
While the perks of being a judge were obvious, Palson admitted the spoils didn't stop when the event wrapped up.
"You get to take home whatever's left," he said. "That's the best part."
The top 10 teams in each category, as well as the top 10 overall teams, were recognized in an awards ceremony after the judging. Pig Newton, a team from Kansas City, Kan., won grand champion honors with an overall score of 680. The team received a trophy, ribbon and $1,000 cash prize.
It was the third McLouth title for Pig Newton, which has grilled competitively for 18 years. The team took fifth at last year's contest.
"They treat us very good here," team member Mike Castaneda said. "The people are really nice and stuff. It's real exciting. (Competitive grilling) is a lot of work that people don't realize. It's more than what you do at home."
Pig Newton took first place in the chicken and brisket divisions. The team barely edged out reserve champion Crimson and Blue BBQ of Lawrence, which received a score of 679.9998. Last year's grand champion, KC Smoke Dawgs, came in fourth with a score of 667.4286.
Other awards included the people's choice award, which went to Eight Ball BBQ of Lawrence, and the backyard division title, which went to Backdoor Bar and Grilling Company of McLouth.