Graf takes over girls hoops team at McLouth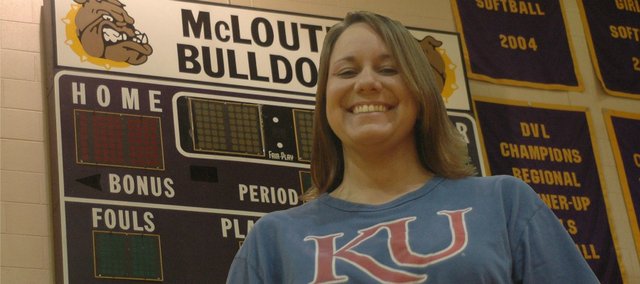 McLouth — For the past seven basketball seasons, Lindsey Graf could be spotted on the bench as an assistant coach at Tonganoxie High. Graf will return to the hardwood again in 2012, but she'll do so just down the road.
Graf's time with the Chieftain program officially came to an end last month, when she was named the head girls coach at McLouth High. She inherits a Bulldog team that went 3-18 last season under former coach Gina Durkes.
"The nice part about (the position) is, to me, there's a lot of pressure to get kids to love the sport," Graf said. "That's something that's been at the forefront of my entire life. I want to get that love for basketball for them, and with that will come some success."
The move became official on May 14 when Graf was approved by the school board, and she's already at work. She spoke to high school and middle school girls about the future of the program before the school year ended and arranged youth and middle school camps.
Additionally, she and her brother, Jason, have been working with players in open gym sessions at the high school. The team hasn't seen much success on the court in recent years, but Graf said that hasn't taken any toll on the players' desire to improve.
"They're not afraid to work. They want to work," she said. "Most of us don't want to get on the line and run, but they don't mind coming in and putting in some time."
Nothing has been approved by the board yet, but Graf said Jason — a former assistant coach in several high school and college programs — will likely join the MHS staff as an assistant before the beginning of the season.
As the 2012-13 school year draws closer, Graf will continue to work individually with players and promote the program. When the time comes to square off against live competition, she admitted the number of games the Bulldogs win will hardly be a priority.
"Honestly, I probably won't even put a goal in the win-loss column," she said. "I'll let that kind of fall where it falls this year. There may be times when there are a lot of short-term goals set so there's immediate feedback for the kids. I think, if we can give a lot of immediate feedback, then it will allow them to grow faster.
"That's my job as a coach — to put them in a position where they're seeing some success."