Tidal Waves to open season Friday at Bonner Springs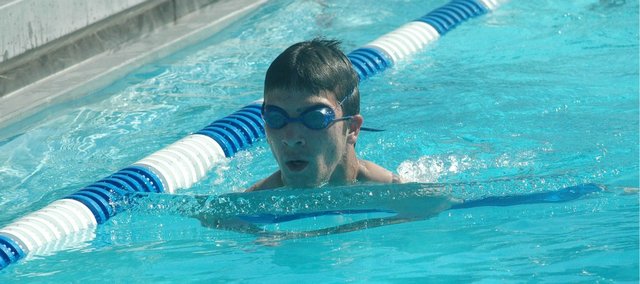 The arrival of summer in Tonganoxie means the Tongie Tidal Waves swim team has returned to the water for its fourth season.
More than 80 kids ages 5-18 began practices last week at Tonganoxie Water Park. The team will compete in the East Kansas Swim League for the second year. League opponents are Piper, Bonner Springs, Leavenworth and Turner.
"The biggest reason why we do the swim team is to strengthen their swimming," coach Janet Falk said. "Because we don't have a year-round program, we start from where they are and continue on."
The Tidal Waves have quickly become one of the leagues largest teams, as they have more than doubled in size since their inaugural season in 2009. However, while they may have strength in numbers, every other league team has the luxury of an indoor facility, which allows for training outside the summer months.
"We are at a major disadvantage," Falk said. "Compared to the other teams, we are probably the third- or second-largest, but the advantage the other teams have is they have high school swim teams that swim during the year."
Tonganoxie's 2012 season will officially get under way at 8 p.m. Friday when it travels to Bonner Springs. All meets will be on Fridays. Falk, who helped organize the team four years ago, said she often relies on her older, veteran swimmers to help their younger teammates at away meets.
The Tidal Waves will be on the road for their firs two meets, but will close out the year with three straight competitions at home. For the first time in team history, they'll host the league championships at the end of the season.
"If you asked any team in the league how we do when we put on our swim meets, I'd bet every single team would say Tonganoxie always has a fantastic swim meet," Falk said.
Tidal Waves 2012 Schedule
June 8 — at Bonner Springs
June 15 — at Leavenworth
June 22 — vs. Piper
July 6 — vs. Turner
July 10 — EKSL preliminaries (11 and older)
July 11 — EKSL preliminaries (10 and under)
July 13 — EKSL championships (Tonganoxie)