TRC

hosts summer kickoff party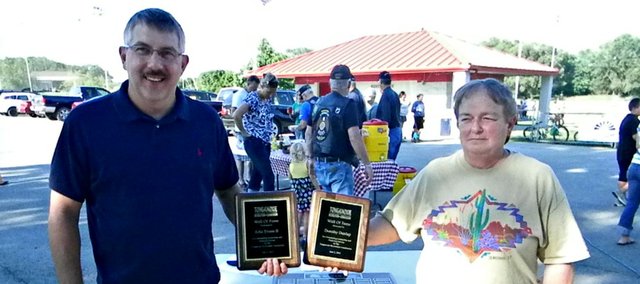 Local residents started their summer off in style Saturday at the Tonganoxie Recreation Commission's annual summer kickoff at Chieftain Park.
Those in attendance enjoyed nearly 400 free hot dogs cooked by First State Bank and Trust. The American Legion Riders helped serve the hot dogs and clean up after the event.
Twenty kids participated in the bike parade and decoration contest. Kaylee Mathia, age 4, won the contest with her purple flower bike.
After the parade, longtime summer ball umpires John Evans II and Dorothy Dunlap were added to the TRC Wall of Fame.
Events concluded with the Silly Critter Pet Show. There were 17 animals entered, from birds and rabbits to rats, ferrets and dogs.