Chieftain girls make progress at summer hoops camp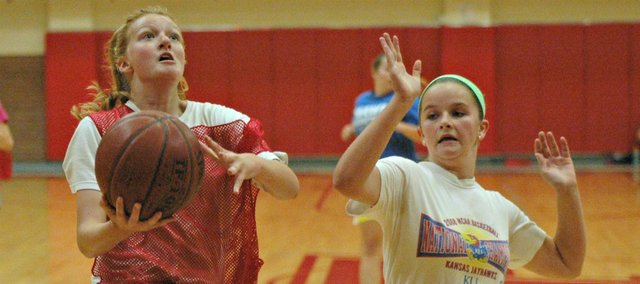 As far as progress and team unity go, coaches and players agree that the Tonganoxie High girls basketball team is already ahead of the curve.
The Chieftains wrapped up their four-day camp Thursday at the THS gymnasium. It was the first opportunity for several new players to get a feel for a varsity squad that must replace three 2012 graduates.
"We had really good numbers and the kids were really receptive to what we were going through," coach Randy Kraft said. "I think we got a lot of stuff put in and gave them a lot of stuff to work on through the summer."
The 2012-13 squad includes a trio of seniors in Hannah Kemp, Jenny Whitledge and Madee Walker. Kemp and Whitledge started all 23 contests during last year's 16-7 campaign, while Walker averaged 12.8 minutes per game in a reserve role.
Walker, who will try to earn a spot in the starting rotation this offseason, was one of multiple veterans to praise the underclassmen — particularly this year's incoming freshmen — for their ability to quickly step up to the learning curve.
"I think (the camp) gets them more comfortable around us, just being on the varsity floor," Walker said. "In a game situation, they won't be as nervous. I'd like to see us win more and come together more as a team. I think we're starting to do that."
Junior Katelyn Waldeier, another primary bench player last season, echoed Walker's thoughts, adding this year's camp was noticeably smoother than the 2011 edition.
"It was much faster paced this year than it was last year," Waldeier said. "The freshmen really picked up on it quick. I think it's really great for them. A lot of them are pretty good."
The Chieftains will continue to work together throughout the summer. They're competing in a weekly league this month in Bonner Springs and have multiple trips to team camps on the offseason schedule.
"We'll play in several games this summer, so hopefully we'll get down our system a little better," Kraft said. "We've got an awful lot of new faces, and they need to get down our game plan a little bit better.
"They're really picking it up well. I'm really pleased so far."