Tidal Waves roll by Bonner Springs in season opener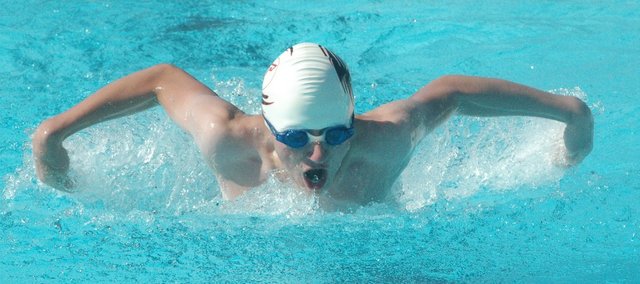 Photo Gallery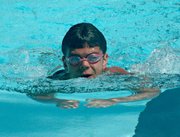 Tidal Waves at Bonner Springs
The Tongie Tidal Waves opened their 2012 season Friday with a 258-168 win at Bonner Springs.
Bonner Springs — Nerves were a factor and techniques were a bit rusty when the Tongie Tidal Waves opened their 2012 campaign Friday at Bonner Springs, but the team rode its strength in numbers to a victory.
The Tidal Waves outnumbered their opponent by more than a 2-1 margin and cruised to a 258-168 season-opening win at Bonner Springs Aquatic Park.
"I think we did really well," coach Janet Falk said. "The swim meet, as a whole, went pretty smooth. Since it's the first meet, a lot of the younger swimmers can be a little reluctant, but by the end of the meet, they were doing pretty good."
The meet was the first-ever live competition for several swimmers, but also served as a refresher for numerous veterans, including some who have been in the program since its inception in 2009.
While Falk admitted swimmers shouldn't be at their best in the first meet of the year, she said all team members — veterans and rookies alike — now have a gauge in which to measure themselves and, in turn, set goals for the rest of the season.
"The game plan is to look at what events they were (disqualified) in and work on those things so they can be stronger and not DQ at the next meet," Falk said. "We'll look at the data and then talk to the team so they're aware of it.
"Truthfully, it's a growth process throughout the summer. Our goal is to get through (the first meet) so they understand the whole process."
The Tidal Waves will return to action June 15 when they travel to Leavenworth for a dual with the Riptides. Action is set for 8 a.m. at Wollman Aquatic Center.
The Riptides handed Tongie a 254-206 defeat in last year's meeting.
"They came in first last year, so they'll be our most challenging team," Falk said. "They typically have more swimmers than any other team in the league and they just have a really excellent coaching staff. They're a force to be reckoned with."
Tidal Waves individual results
6-and-under boys
Garrett Edwards — Third in freestyle
Gavin Shupe — Second in freestyle
Josiah Watherford — Second in backstroke
6-and-under girls
Laikyn Bennett — Second in freestyle, third in backstroke
Grace Edmonds — Third in freestyle, second in backstroke
Ellie Jackson — First in freestyle, first in backstroke
8-and-under boys
Gage Hayden — Third in freestyle, second in backstroke
Cody Kesinger — First in freestyle, third in backstroke
Max Plaschka — Second in freestyle
Freestyle relay — First place (Hayden, Kesinger, Plaschka and Caleb Watherford)
Freestyle relay — Second place (Nolan Rogers, Travis Shepherd, Evan Shupe and Ben Suber)
8-and-under girls
Jaiden Edmonds — Third in freestyle, third in backstroke
Emma Jackson — First in freestyle, first in backstroke
Mikayla Rhoads — Second in freestyle, second in backstroke
Freestyle relay — First place (Edmonds, Jackson, Rhoads and Macy Geiger)
10-and-under boys
Declan Franey — Third in backstroke
Caden Hellman — Third in freestyle, third in backstroke
William Weatherford — Second in freestyle
Freestyle relay — First place (Hellman, Jack Duvall, Declan Franey and Dustin Rhoads)
Freestyle relay — Second place (Weatherford, Hunter Calovich, Dylan Graham and Scotty Vick)
10-and-under girls
Meron Hayden — First in breaststroke, second in individual medley, third in freestyle, butterfly and backstroke
Marisa Kearns — First in butterfly, backstroke and individual medley, second in breaststroke
Medley relay — First place (Kearns, Hayden, Lauren Lawson and Emma Morgan)
Freestyle relay — Second place (Lawson, Morgan, Clara Altenhofen and Ally Sparks)
12-and-under boys
James Breedlove — First in backstroke
Holden DeGraff — First in individual medley, second in butterfly
Alex Falk — Third in butterfly, backstroke and individual medley
Devan Graham — Second in backstroke
Gad Huseman — First in butterfly and breaststroke, Second in freestyle and individual medley
Zeb Huseman — First in freestyle, second in backstroke and individual medley
Patterson Starcher — Second in breaststroke
Freestyle relay — First place (Breedlove, DeGraff, Graham and Ethan Edmonds)
Medley relay — First place (DeGraff, Edmonds, Falk and Rylan Hellman)
12-and-under girls
Courtney Cruickshank — First in backstroke, second in butterfly and individual medley, third in breaststroke
Abby Frye — First in freestyle, butterfly, breaststroke and individual medley
Samantha Stewart — Second in freestyle, third in backstroke
Freestyle relay — First place (Isabella Behm, Rilee Garner, Samantha Koch and Marisa Kearns)
Medley relay — First place (Frye, Koch, Stewart and Bailey Bradley)
14-and-under boys
Luke Falk – First in freestyle, butterfly, Breaststroke and individual medley
Freestyle relay — First place (Falk, Gad Huseman, Patterson Starcher and Rylan Hellman)
Medley relay — First place (Falk, Huseman, Hellman and Ethan Edmonds)
14-and-under girls
Emily Chambers — Second in breaststroke
Joanna Filbert — Second in butterfly and individual medley, third in freestyle
Bailey Jackson — First in breaststroke
Niki Tallent — Third in backstroke, breaststroke and individual medley
Freestyle relay — First place (Chambers, Filbert, Jackson and Tallent)
Medley relay — First place (Chambers, Filbert, Tallent and Emily Edmonds)
18-and-under boys
Will Bond — Second in butterfly, third in breaststroke
David Falk — First in freestyle, butterfly, backstroke, breaststroke and individual medley
Lee Maughmer — Second in freestyle, backstroke, breaststroke and individual medley
18-and-under girls
Sidney Grinter — Second in breaststroke, third in freestyle, backstroke and butterfly
Alexis Tate — Third in individual medley
18-and-under mixed
Medley relay — First place (David Falk, Lee Maughmer, Sidney Grinter and Alexis Tate)
Freestyle relay — Second place (Will Bond, Cody Koch, Alexis Tate and Abby Frye)