Commissioner suggests long-term projects for Leavenworth County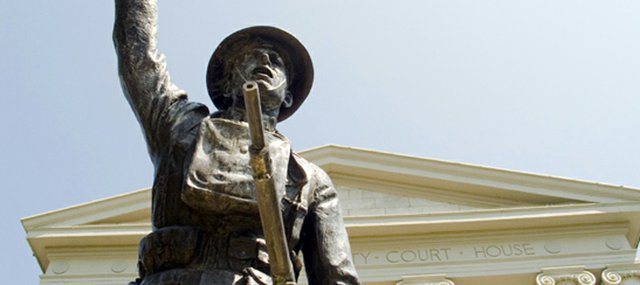 As the Leavenworth County Commission prepares to examine the county's 2013 budget, one commissioner is asking his colleagues to set their sights far beyond next year.
Commissioner John Flower said Monday he'd like the board to consider a number of projects and changes to plan for in future years, including paving gravel roads, adding county parks and recreation offerings and opening additional county offices to provide emergency response and other services.
Without a plan for the future, Flower said, the county won't be able to accommodate and encourage its future growth.
"We're becoming less and less rural every day," Flower said after Monday's commission meeting.
That's especially true in the southern part of the county, Flower said, and yet most of the county's services are clustered in Leavenworth and Lansing. More than 60 percent of the county's population may still live in those northeastern cities, he said, but that doesn't make it right for those services — especially emergency medical response — to be unevenly distributed.
"What about the other third?" Flower said. "Are they not as deserving?"
During last year's budget process, Leavenworth County Emergency Medical Services requested a new paramedic vehicle for Basehor, but commissioners didn't approve the expenditure. As the population in the southern part of the county grows, Flower said, commissioners may need to plan for a bigger step —more county satellite offices in addition to the one in Tonganoxie.
Of course, they'll also have to consider other developmental steps — paving more roads, proceeding with a public airport, attracting more businesses — and where those rank as priorities, he said. That's the point of the discussion he wants to have, he said: Before commissioners can make difficult decisions on what services and projects to fund, they should have a long-term plan in place.
"Just because you're going to talk about something, just because you look at something, doesn't mean you're going to do it," Flower said. "But it does mean you now have information to make that decision."
He said he knew the other two commissioners, Clyde Graeber and Bob Holland might flinch at the idea of additional spending, and perhaps the county doesn't have the funding to proceed with any major projects right now. But providing services for county residents, he said, is his job.
"The mission of a commissioner is not to reduce the taxes," Flower said. "The mission of the commissioner is to execute the services as outlined by the statutes."
The final item on Flower's list of possible changes is to change the structure of the county commission itself by increasing the number of commissioners, perhaps to five or seven. As the county's population continues to grow, he said, the commissioners would need to consider when they'll reach the point where they can no longer represent the needs of all their varied constituents.
"I think it gives more flexibility," Flower said. "It gives a broader view. But am I advocating going out and doing it tomorrow? No."
Flower, who represents the southern part of the county including Tonganoxie and Basehor, has announced he will not run for re-election in the fall. Republican Dennis Bixby and Democrat Mike Yanez, both of Tonganoxie, will vie to replace him in the November general election.