McLouth hosts middle school hoops camp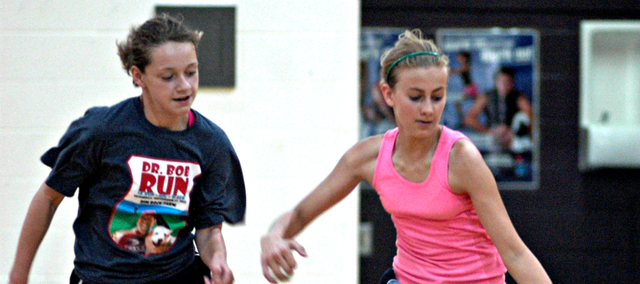 Photo Gallery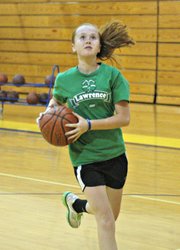 McLouth Middle School girls camp
McLouth High girls basketball coach Lindsey Graf hosted a four-day camp for middle school girls last week in the MHS gym.
McLouth — The new era of McLouth High girls basketball is officially under way, and the effects can already be felt beyond the high school ranks.
Middle school girls got their first opportunity to work with newly appointed MHS coach Lindsey Graf at this week's middle school camp, which took place Monday through Thursday in the high school gymnasium. Approximately 10 middle schoolers showed up each day, as well as a few high school players who volunteered as coaches for the camp.
"Our numbers were low, which was not completely surprising, but I think the kids had a lot of fun," Graf said. "We did a ton of fundamentals — form shooting, ball handling, passing, defense — but we also combined in a lot of competitive games. There were a lot of prizes for everybody, so the kids were fired up about that."
As she continues to generate interest in the program, Graf emphasized the importance of getting girls on the court before they begin high school. The efforts have already started to pay off, as campers brought friends and numbers grew throughout the week.
"In the end, what we're hoping is (the offseason work) won't only boost their fundamental skill base, but it will also get more kids playing," Graf said. "They went and recruited two kids this week. If they're willing to put in some time, they'll reap the benefits."
In addition to the middle school camp, Graf hosted a youth camp in the mornings this week. Five boys — all in elementary school — were present each day, and Graf said each managed to have fun while still gaining valuable knowledge of the game.
"They had a lot of fun and they were pretty fired up," she said. "They love to be competitive in games. Each one of them got better by leaps and bounds just in that week."
High school players have been working out and attending open gym sessions in the mornings before camp this week and will continue to do so throughout the summer.