Kuzmic, Bartholomew, Soetaert earn spots on All-State teams
KVL

recognizes 11 Chieftains for success in 2012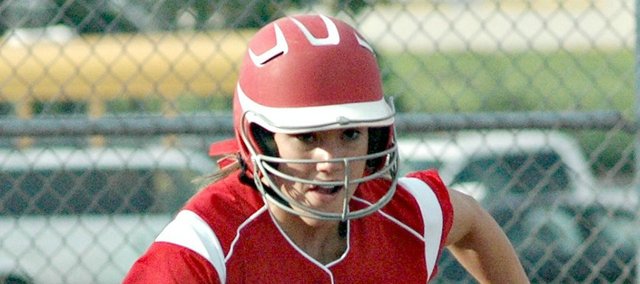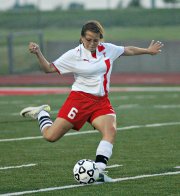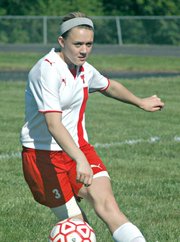 Throughout the 2012 softball season, Tonganoxie High's Kailan Kuzmic was a tough out, to say the least. She reached base in exactly half her at-bats while driving in a team-leading 18 runs. She was equally as effective with her glove, as she finished her final high school season with a .962 fielding percentage at first base.
The 2012 graduate's achievements weren't just noticed by coaches throughout the Kaw Valley League, but also coaches across the state. That was made evident by her selection to the 2012 All-State second team, released last week by the Kansas Softball Coaches Association.
"(The selection) means a lot. I've been playing ever since i was little, but i wasn't really expecting anything from it," Kuzmic said. "It kind of just topped off my senior year."
Kuzmic's name can be found at or near the top of the team list in almost every offensive category. She led the Chieftains with a .455 batting average, .500 on-base percentage and .714 slugging percentage. She also tied for first on the team with 18 runs batted in and 2 home runs.
She joins Basehor-Linwood pitcher Brooke Redmond (second team) as the only KVL players on the Class 4A All-State rosters.
"When you've got coaches that know what stats mean and know how good kids really are, they're going to get their due," former softball coach Lee Matzeder said. "(Kuzmic) was getting a base hit almost half the time she batted, and when she touched the ball, it was good news 96 percent of the time. She just did an awesome job for us this year."
Kuzmic will attend Butler County Community College, where she'll play volleyball in the fall.
A pair of Chieftain soccer players also garnered state-wide recognition, as defender Aly Bartholomew and forward Emily Soetaert were both selected to the Kansas Soccer Coaches Association All-State second team. The sophomore duo helped THS to a record-breaking year, which included the first state tournament appearance in school history.
"I didn't see it coming," Bartholomew said of her selection. "(This season) was amazing. We progressed as a team really well. Game after game, we started putting things together."
Bartholomew's accomplishments weren't necessarily reflected on the stat sheet, but her defensive skills in the backfield helped the Chieftains set a program record for least goals allowed in a season (51). Soetaert missed the first seven games of 2012, but established herself as one of the team's top scoring threats in the second half of the season. She secured the Chieftains' state bid when she scored with 58.8 seconds remaining in quarterfinal action May 22 against De Soto.
"I never would have thought at the beginning of the season that I would be getting recognized by the state," Soetaert said. "I knew that, after missing games and being out, I owed my team."
The school's three All-State selections also lead a list of 11 Chieftains named to All-Kaw Valley League teams. Kuzmic, a second-team selection is joined by fellow 2012 grads Haley Smith and Amanda Holroyd, who were each named honorable mentions.
Smith, the Chieftains' starting left fielder, hit .304 with 12 RBI this season. The honorable mention was her third straight All-KVL selection.
"You knew (Smith) was always good for a single to left field," Matzeder said. "She was just a nice, quiet senior leader. Being a three-year All-KVL player, that's pretty good."
Holroyd, a shortstop and Kansas City Kansas Community College signee, hit .350 with 10 extra-base hits — two of them home runs — and 14 RBI en route to her second straight honorable mention.
"(Holroyd) was a little up and down, but .350 is a strong average," Matzeder said. "When she got ahold of the ball, half of her hits went for extra bases, so that's huge."
The softball trio wasn't the only group to earn recognition on the diamond, as three Chieftains garnered all-league baseball honors as well. Shane Levy was named to the first team after his sophomore campaign, Ben Williams wrapped up his final season with second team honors and Travis Woods was named an honorable mention as a sophomore.
Levy, primarily an outfielder, led THS at the plate all season. He hit .446 with 3 home runs and 25 RBI — all team-highs. Williams, a middle infielder, hit .377 with 9 RBI and went 5-for-6 in stolen base attempts. Woods emerged as one of the Chieftains' top pitchers, posting a team-low 4.20 earned run average in 31.2 innings pitched. He hit .232 with 3 RBI and 10 runs scored.
Five members of the girls soccer team were honored by the league for their contributions to its landmark season. Forward Molly Welsh was the school's only first-team selection, Bartholomew and Shyanne Gergick were each named second-team defenders, and Soetaert and Madison Simmons earned honorable mentions — Simmons as a midfielder and Soetaert as a forward.
"It took their individual effort to play team soccer. That's what got us where we were," soccer coach Justin Seever said. "Once we started playing good soccer as a team, those girls stood out stat-wise, which got them recognition. It was really a team effort that got them that nod."
Four of the Chieftains' five all-league selections will return next season, as Gergick was the only member of this year's graduating class. Welsh was a junior in 2011-12, while Bartholomew, Simmons and Soetaert were all sophomores.
THS 2012 All-State Selections
Kailan Kuzmic — Second-team softball
Aly Bartholomew — Second-team soccer
Emily Soetaert — Second-team soccer
THS 2012 All-KVL Selections
Shane Levy — First-team baseball
Molly Welsh — First-team soccer
Kailan Kuzmic — Second-team softball
Aly Bartholomew — Second-team soccer
Shyanne Gergick — Second-team soccer
Ben Williams — Second-team baseball
Madison Simmons — Honorable mention soccer
Emily Soetaert — Honorable mention soccer
Haley Smith — Honorable mention softball
Amanda Holroyd — Honorable mention softball
Travis Woods — Honorable mention baseball