Nearly 50 on hand for annual 'Sokker Kamp'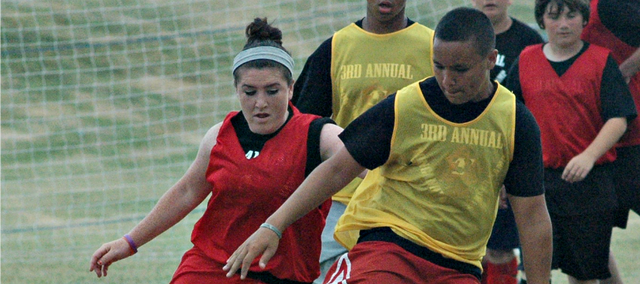 Success came in droves for the Tonganoxie High soccer teams in 2011-12, and members of both Chieftain squads are already at work in preparation for next season.
Nearly 50 athletes congregated at the THS practice field last week for the third annual high school Sokker Kamp, hosted by head boys coach Brian Kroll. It was the first action for members of the boys team, which reached the 2011 state quarterfinals, and the girls team, which made its first state tournament appearance in school history last month.
"Getting kids to at least come out here and be excited about soccer, that's what I was hoping to get from the seasons the boys team and the girls team had," said Kroll, who is also an assistant coach of the girls team. "I think having almost 50 kids overall is pretty good."
The number of campers has increased each year, and Kroll estimated the camp size had doubled since its first year in 2010.
During the five-day camp, players in grades 8-12 focused on the fundamentals of the game, starting with 3-on-3 drills on day one and slowly progressing their way up to full scrimmages by the final day of camp. At the end of the week, awards were given out for the top male camper, top female camper and top overall camper.
While he admitted he saw progress throughout the week, Kroll emphasized the importance of campers maintaining focus for the duration of camp.
"I saw improvement, but that's the frustrating thing from a coach's perspective," he said. "When you can see improvement, but you can see the momentum slowing down, what kind of improvement would it be if they never let down. That's the frustrating part for me, but I did see improvement."
Following the conclusion of camp, the Chieftains took four teams to Perry-Lecompton for a 3-on-3 tournament. Tonganoxie took two teams to last year's tournament and swept the top two spots.
The second annual Kids Kamp is set for July 9-13. The camp will be broken into two sessions. The kindergarten through fourth-grade session will meet from 9-11 a.m. and the fifth-grade through seventh-grade session will meet from noon to 2 p.m.