Chieftain volleyball team returns to court for camp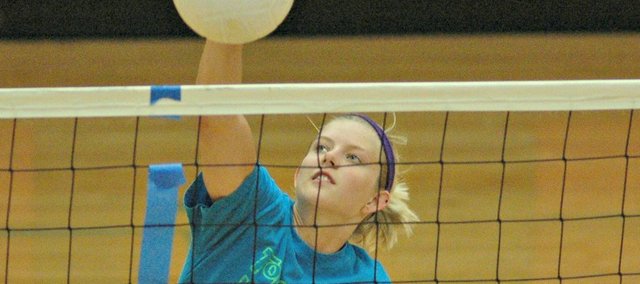 The Tonganoxie High volleyball team has plenty of work to do and several spots to fill before the start of the 2012 season, but the Chieftains are on the right track.
That was made evident at this week's summer team camp, which took place Monday through Thursday in the THS gymnasium. Several girls from all classes suited up in an attempt to fine-tune their fundamentals and familiarize themselves with their teammates.
With the exception of a select few, the camp marked the first time players had seen the court since the end of last season.
"I thought it went well. We had a lot of kids here that wanted to get better," coach Tiffany Parker said. "We had a lot of tired girls at the end of camp. They were giving me a lot of great effort and they were playing really well together. There is some rust to be shaken off, but they're ready to go."
Parker, who enters her first year as the Chieftains' head coach, must replace five seniors from a 2011 squad that went 29-11 and reached the sub-state semifinals. Returning seniors from last year's varsity team are Jenny Whitledge and Madee Walker.
Among those lost to graduation were Manhattan Christian College signee Sagan Scates and Butler Community College signee Kailan Kuzmic.
"We have a lot of folks that need to be replaced," Parker said. "We're lost a lot of the main parts of our team. They could be difficult to replace, but I have kids who are stepping up and want to not necessarily fill those shoes, but create their own."
Players will continue to meet on Tuesdays and Thursdays for summer volleyball workouts, as well as weight training three times a week. Parker expects the the players' technique to improve naturally as the start of the season approaches. In the meantime, she hopes to see more growth in terms of team unity.
"We've kind of had a building of the fundamentals," she said. "They know what they're supposed to do, so now it's just training their bodies to do it over and over. Between now and (the fall), I'd like to see them grow even more as a collective group — as freshmen through seniors, just support for one another.
"It's a lot about teamwork between now and then as far as camaraderie and building that together."