Two new Basehor restaurants spring up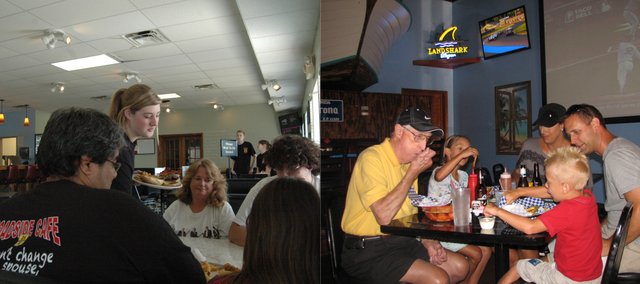 Two new restaurants have popped up along U.S. Highway 24-40 in and around Basehor during the past two months, with each angling for a different niche.
Shark's Cove Grill and Bar, which caters to the sports-bar crowd, opened in early May, and 24-40 Roadside Café, which serves comfort food in a diner-style atmosphere, opened this week.
Both establishments are owned at least partially by Basehor residents, and their owners agreed that the Basehor area was more than ready to support this restaurant mini-boom.
"I think there's plenty to support what we have out there right now," said Tim Kaminski, a Basehor resident and one of three owners of Shark's Cove.
Bryan Smith is the sole owner of the 24-40 Roadside Café, located on the northwest corner of 24-40 and 155th Street. The former executive chef at the Great Wolf Lodge in Kansas City, Kan., Smith said he was confident that the classic items on the restaurant's menu would appeal to families.
"You really can't go wrong with comfort food, you know, classic Americana," Smith said. "I think everybody appreciates that."
The café will serve breakfast all day and offer staples such as country-fried steak, burgers and meatloaf (which is much more flavorful than the loaf his mother used to cook, Smith said).
The restaurant doesn't serve alcohol, and Smith said he aimed for a 1950s diner feel, including sparkly blue vinyl booths. He said he hoped it could be a spot for families in a hurry to stop for a quick meal without needing to leave town.
The Shark's Cove Grill and Bar, meanwhile, is aiming for the sports-watching crowd as well as families, Kaminski said. Shark's Cove is just east of the Basehor city limits at 15306 Briar Road.
With 13 televisions, including one measuring 11 by 14 feet, it makes for a great place to catch a game without driving out to the Legends in KCK, Kaminski said.
"What we wanted to do was something totally different that Basehor hasn't had," Kaminski said.
Business has been brisk during the Cove's first month-and-a-half open, he said, and the menu has gone over well. The owners decided to keep the beach theme from a previous tenant of the building, resulting in the new bar's name.
The 24-40 Roadside Café is open 8 a.m. to 9 p.m. Tuesday through Thursday and 8 a.m. to 9:30 p.m. Fridays and Saturdays, and it's closed Sundays and Mondays. The Shark's Cove Grill and Bar is open 11 a.m. to 2 a.m. Monday through Saturday, but patrons can expect it to probably expand to Sundays when football season comes around in the fall, Kaminski said.