Leavenworth County voters to receive district information soon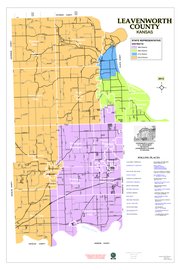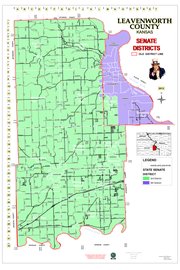 Any Leavenworth County voters confused by this month's redistricting jumble can expect some clarification in the mail soon.
Leavenworth County Clerk Janet Klasinski said her office would be mailing information cards to registered voters with plenty of time remaining before the Aug. 7 primary for national, state and county races, likely within the next week.
Though the county's new state House of Representatives districts, in particular, scarcely resemble what they were before, Klasinski said the new districts handed down by federal judges earlier this month has not prompted too much confusion.
"I don't think our county's in too bad of shape," Klasinski said.
Compared with what happened in some other counties, she said, the district changes were not too complicated.
Within Leavenworth County, state Senate districts remained nearly the same. The 3rd District still covers the entire county outside of the Fort Leavenworth, Leavenworth and Lansing area, with a few small adjustments.
In the Republican primary for that seat, state Rep. Anthony Brown of Eudora will take on J.C. Tellefson of rural Leavenworth. Tellefson, a former Leavenworth County Commissioner, announced a bid for the Senate last fall before he knew in which district he would fall, and Brown filed to run for the seat after his House District, the 38th, moved.
The winner of that primary race will go up against incumbent Sen. Tom Holland, D-Baldwin City, in November.
But the real transformations occurred with the county's House districts. The 42nd District, which previously included the bulk of the county's southern half as well as part of Lansing, has shifted to the west and the north.
"It's mostly a rural district," Klasinski said.
In that district, incumbent Rep. Connie O'Brien of Tonganoxie will face Sandra Bohne of rural Leavenworth in the Republican primary, and Democrat Harold Fevurly of rural Leavenworth will await in the general election.
The 42nd still includes all of Tonganoxie Township and the city of Tonganoxie, as well as most of Reno Township. But the portion of Reno east of County Road 1 will join Stranger, Sherman and Fairmount townships in the newly drawn 38th District, which includes Basehor and Linwood.
Willie Dove of Bonner Springs and David Anderson of De Soto will face each other in the Republican primary for the 38th, which was left without an incumbent after redistricting. The winner will face Basehor Democrat Pete Henderson in the general election.
Klasinski said the late redistricting process, which occurred after the Legislature could not agree on new maps, had forced her office to work quickly to get pieces in place.
"We worked very hard to get these changes in place as fast as we could," Klasinski said.
If voters have any questions remaining after they receive their information cards, Klasinski said, they can call the county clerk's office at 913-684-0421. The voter registration deadline for the Aug. 7 primary election is July 17, and advance voting begins July 18.