What summer break?
Area teachers work outside the classroom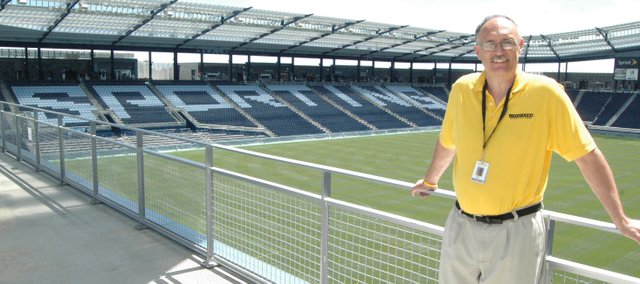 At the urging of his wife, Steve Pierce's pasta sauce has gone from hobby to a money-making undertaking.
The Baldwin City resident and teacher in the Shawnee Mission school district has been a gardener for 25 years. He was at the dinner table eating a dish with homemade pasta sauce when his wife suggested he sell the sauce. That was five years ago.
Since then, his My Neighbor Steve pasta sauce has popped up at local grocery stores, including The Merc and Checkers in Lawrence and Baldwin City Market.
While selling the sauce at farmers markets, he noticed vendors around him were successful selling produce, so in addition to the pasta sauce, he added produce, including zucchini, onions, cucumbers, green beans, lettuce and spinach.
He cultivates about an acre of land between Eudora and Baldwin City, but it's not just a summer job. With the exception of December and January, he, with some help from his family, tends to the expansive garden. Pierce tends to the garden at "first light" in the morning, which he also does during the school year on his way to school. He begins teaching German and Spanish at Shawnee Mission West in August after several years at Shawnee Mission South.
"The very first year it was out of my backyard," Pierce recalled. "It was really obvious I had to expand. I went from 30 tomato plants to 300 to 450 to 900 this year."
He estimated he has 3,000 pounds of green tomatoes on vines currently.
Asked whether he has incorporated aspects of his business venture into the classroom, Pierce said he hasn't but thought expanding vocabulary of some of the produce into his lesson work in the future could be done.
Baseball gigs
Suzie Roe and her husband have been season ticket holders at Kansas Speedway and CommunityAmerica Ballpark since the inceptions of both sports venues more than a decade ago.
Roe also has worked in both ticket offices in that time span.
"I tell people I have this season ticket job to supplement my husband's season ticket purchasing habits," she said with a laugh.
Roe, a Basehor resident and sixth-grade social studies teacher at Clark Middle School in Bonner Springs, said she likely could count on one hand the number of home games she's missed in 10 years with T-Bones. If there's a homestand, she can be found behind one of the box office windows at the northwest corner of the stadium.
"This is my fun job," Roe said. "Teaching is my serious job."
Through her secondary job, Roe has helped bring some incentives to Bonner Springs students through the T-Bones Reading Program. Students can earn free game tickets by reading a total of 2,000 minutes. Students fill out scorecards tracking their reading progress.
Another CMS teacher who also lives in Basehor, Sarah Benton, works in the T-Bones merchandise store at the stadium. Benton teaches sixth-grade language arts and learned of the job through Roe, but is no stranger to secondary jobs in the Village West area. She formerly worked at the Gap Outlet in the Legends shopping center and Chateau Avalon east of Kansas Speedway as part-time work, even during the school year.
"I'm looking forward to moving into that arena of just summer seasons instead of working through the school year, too," she said.
Benton works about eight to nine games a month and said it's a good seasonal job to have.
"I love it out there," she said. "It's a very fun environment to work just with everyone coming out for a baseball game and family fun entertainment."
Theme nights bring out some great costumes, Benton said, such as Star Wars night. Saturday was superhero night, as Benton and others in the merchandise store were dressed as Teenage Mutant Ninja Turtles.
Roe said she appreciates the reading program and tells the T-Bones general manager that when she retires she is going to take team mascot Sizzle on the road with her to promote reading in area schools.
"He smiles and nods his head," Roe said.
Am I in the right section?
Steve Gish has spent portions of past summer vacations conducting or assisting with basketball camps, and this summer he is teaching summer school at McLouth USD 342, where he's been a longtime high school math and computer science teacher.
This summer, though, the Tonganoxie resident is helping to ensure soccer fans and music enthusiasts get to their seats.
Gish works at Livestrong Sporting Park as an usher for soccer games and the occasional concert at the soccer venue.
"It's been fun," Gish said. "Once every week and a half, two weeks. I don't feel that it's a drudgery-type everyday job. It's kind of a change of pace."
The teacher learned of the job through another McLouth teacher's wife, who prints tickets at the stadium.
"It's a chance to get a different perspective on a business that seems kind of seamless when you show up," Gish said. "Like when you go to a Royals game or Jayhawks game or anything else. You think it's automatic. It opens your eyes to all the little jobs and responsibilities that go into a major sporting event or concert."
Concerts can be more challenging, as some attendees attempt to seek better seats.
"I got to hear a lot of lines of why people needed to be on the field for the concert — between 'I need to talk to my friend' and 'I left my purse somewhere.' All of these other interesting reasons," he said.
Additional teaching
For Lindsey Constance and Lucas Shivers, their summer work was an extension of their day jobs.
The Bluejacket-Flint Elementary teachers from Shawnee spent two weeks earlier this month in Manhattan learning about sensor technology with Kansas State University graduate students. The sixth-grade teachers learned to incorporate sensor technology into contemporary classrooms using hands-on approaches.
Teachers participate in the program in two-year intervals, and this was the second summer at K-State for Constance, who teaches science, and Shivers, who teaches language arts. They applied for the program last year and were two of 15 teachers from across the state working with nine K-State graduate students earlier this month.
The program, known as Infusing System Design and Sensor Technology in Education, included activities such as building working speakers from scrap materials, assembling circuits from homemade Play-Doh, utilizing WiiMotes to demonstrate physics concepts and programming robots. Participants also visited research labs and sites at Kansas State and in the surrounding area, including the K-State Soils Lab, the Department of Kinesiology's NASA physiological research unit, the Konza Prairie Biological Research Station and stream sediment sensor networks near Fort Riley.
KSU engineering graduate student Denise Case visited Bluejacket-Flint periodically last school year to work on class exercises with Constance and Shivers and will do the same in the upcoming school year.
"We're going to do a unit on Newton's Law of Motion in rockets," Constance said. "We're going to use sensors to measure the acceleration and velocity. I think that will be really exciting."
One of Shivers' lessons will focus on creating technical instructions for a computer program. He said Case worked well with students and he looks forward to her partnership in the classroom again in the upcoming school year.
"She really made it hands-on," Shivers said. "Students could wrap their minds around it and realize they could really have a future in that area."
In the past, Shivers has worked various jobs, including summer day camps and at the National Agricultural Center and Hall of Fame.
"We just had a baby, so that's kind of my summer," Shivers said.
Constance, who is expecting a baby in the fall, generally works as a math tutor in the summer.
"I'm not all that great at relaxing," she said. "I do better if I have something going on — something like this or taking classes or training for a marathon."