THS

boys' season ends with semifinal loss to Hayden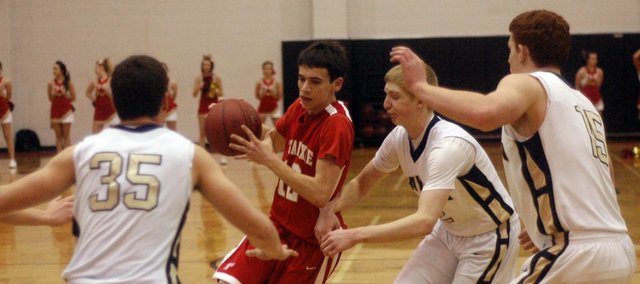 Bonner Springs — Midway through the second quarter, senior Dylan Jacobs brought the ball over the half-court line. He was stripped by Hayden's Collin Strobel, then called for a foul as Strobel drained a layup on the other end.
It was just that kind of night for the Chieftains.
THS struggled from the opening tip and saw its season end Thursday with a 67-32 semifinal loss to Hayden at Bonner Springs.
"When we came out, we did not come with the intensity level it takes to compete with a team like Hayden," coach Shawn Phillips said. "They're a good team. They're capable of winning the state tournament. You've got to play great if you want to win games like that."
The Wildcats (18-3) wasted no time taking control of the game, exploding out to a 26-7 lead at the end of the first quarter. The Chieftains (11-11) trailed by just one point two minutes into the game, but failed to answer Hayden's decisive run.
Unhappy with his team's effort in the early going, Phillips replaced his starters with five reserves late in the opening period.
"Our top group's effort was not where it needed to be, so we decided to give some other guys an opportunity," he said. "They did a decent job. They played as well as our first group. We're not just going to be happy with our first group playing on a subpar level, so we made a change."
The Wildcats continued to pull away in the second quarter and took a 40-17 lead into the locker room at halftime. THS opened the second half with six straight points, but never posed a serious comeback threat.
Hayden went on another run to go up 59-29 at the end of the third, and a running clock was used for the remainder of the game.
Wildcat junior Bennett Federico led all scorers with 16 points. Senior Colby Yates led THS with nine.
The loss was the final game for five Chieftain seniors, including Yates, Dane Erickson, Dylan Jacobs, Ben Williams and Brady Waldeier. With a young team returning to the hardwood in 2012-13, Phillips hopes his underclassmen will use the season-ending defeat as a learning experience for next season.
"Hopefully, they learned that we've got to get stronger as a team," he said. "Hopefully, they learned that when we're nagging on them about little things in practice, it's for games like this where it really matters against really good teams.
"This summer is going to be big for us. We're turning over a lot of minutes. Hopefully, this teaches them that we're not where we need to be. We've got to work and get better."
Score by quarter
Tonganoxie 7 10 12 3 — 32
Hayden 26 14 19 8 — 67
Individual scoring
TONGANOXIE — Colby Yates 3-8 3-3 9, Dane Erickson 2-5 2-2 6, John Lean 1-10 4-6 6, Tyler Ford 2-2 0-0 4, Eric McPherson 2-3 0-0 4, Brady Waldeier 0-1 3-4 3, Eric Tate 0-2 0-0 0.
HAYDEN — Bennett Federico 6-7 4-7 16, Andy Otting 4-5 1-2 9, Brogan Barry 4-4 0-0 8, Collin Strobel 3-9 2-3 8, Matt Hutchinson 2-3 2-2 7, Tanner Triggs 2-5 0-0 5, Sam Glennon 2-5 0-0 4, Conner Beck 1-2 2-3 4, Alex Schmidtberger 1-2 2-4 4, Brendon Hutley 1-1 0-0 2.