Banana marks city's take on state cutout contest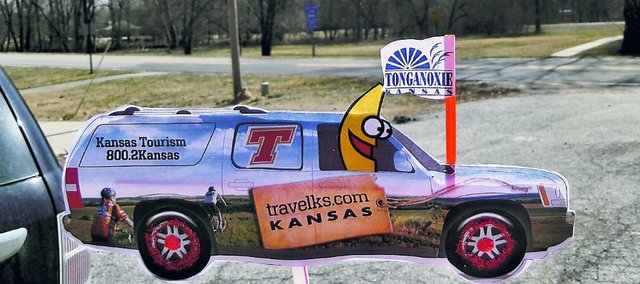 The Flat Burbana could be driving down your street in the coming days.
This "SUV" is Tonganoxie's take on the Flat Burb Contest through the Kansas Department of Wildlife, Parks and Tourism.
Kansas residents are encouraged to download a copy of the Flat Burb at travelks.com, then take photos of a cutout vehicle throughout their communities and post the photos at facebook.com/FlatBurbKS. The community with the most posts on the Facebook page will be the launch site for Kansas Tourism's Visit Friends and Relatives campaign later this year. The Facebook contest ends April 1.
Though many communities are participating in the contest, Tonganoxie has added some bling to its Flat Burb.
Cheryl Hanback, Keyta Kelly, Lana Howe and Cecilia Harry, all members of the Tonganoxie Retail/Commercial Development Committee, recently decorated four Flat Burbs. The Burbs have red glitter on the tires, a City of Tonganoxie flag where the radio aerial would be and the Tonganoxie High "T" in the back window. In the front seat is positioned a banana, which Kelly explains is something the RCDC has been toying with to market Tonganoxie.
The city has been associated with the Tonganoxie Split because some meteorologists have said weather patterns "split" when they get to Tonganoxie.
"What else is identified as a split? You usually think of a banana split," Kelly said. "Ergo, the banana is driving in there."
Harry said the group wanted its Flat Burb to stand out, and so it has a few extra features and is known as the Flat Burbana.
"We blinged ours up quite a bit," Harry said.
The RCDC members have taken photos of the Flat Burbana throughout Tonganoxie and have posted them on the Flat Burb's Facebook page, www.facebook.com/FlatBurbKS. They'll continue to do so as they look to put Tonganoxie on the map and win the contest.
"If you see the Burb coming down the street, feel free to flag it down and get your smile ready," Harry said.
To follow the Flat Burbana, "like" the City of Tonganoxie's Facebook page.