FINE

PRINT

:

USD

464 officials say finger scans more efficient method than lunch, library cards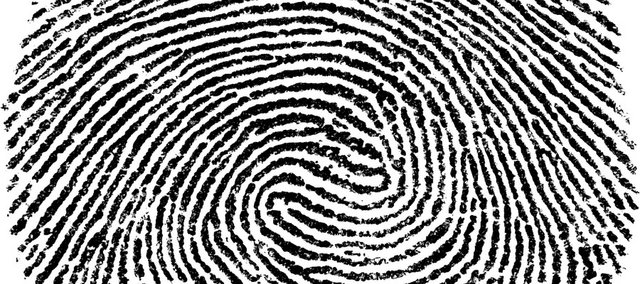 For many Tonganoxie students, paying for lunch or checking out a library book is made possible with the touch of a finger — usually their right index finger.
Students place their fingers on a small pad that identifies 12 points on the index finger. A 20-digit number assigned to a student's configuration shows up on a monitor in the lunchroom and provides the student's account information. The same process is used for checking out library books.
The procedure was used in the Derby school district when David Milhon, Tonganoxie technology coordinator, worked there. He suggested the system to Tonganoxie school officials, as it worked well with Skyward, the district's student information system. The district started a transition from Power School to Skyward during the 2009-10 year and implemented it fully starting with the 2010-11 school year. The district started last year with the lunchroom and expanded to the libraries this year. He said each fingerprint reader and accompanying equipment costs less than $1,000 with eight being used in the district. Replacement readers cost about $200.
Milhon said fingerprint readers also were selected to save time in the lunchroom and also provided a different option in the libraries. Student cards also can be used to pay for lunch, but the cards might not yet be created when the school year begins.
"A finger is available the first day of school," Milhon said. "What do you do during that time?"
There is an up-front cost for the readers, but potential for savings long-term. He said that if the district decides to phase out student cards, the return on the investment would be realized sooner.
Milhon said the program allows for storing of fingerprints, but he said that would be unnecessary and it slows the system down. Instead, there are those 12 snapshots of the fingerprint that are used to identify the students.
Parents can opt their children out of the program. A total of 23 students among the nearly 2,000 students in the district do not use the scanners, school officials said.
"First of all, we don't have a fingerprint," Milhon said. "We can't even reproduce that fingerprint.
"I think it's a very good system. There's no risk involved with this whatsoever."
The readers did take some getting used to last year, Milhon said, but students move through the lines efficiently, he said. And there is an occasional hiccup, such as if a student's finger is wet or too cold. As backups, a student ID can be used or employees can manually enter in a student's information on touch screens in the lunchrooms.
Tonganoxie High School junior Elizabeth Andrews and sophomores Sally Smith and Cecilia Monarrez said after eating Tuesday in the THS cafeteria that they preferred the fingerprint scan.
"It's a lot faster," Smith said, noting that she now only uses her student card as a bus pass.
At the elementary school, second-grader Joseph Jimenez said he also preferred the finger scan.
"I thought it was pretty cool," Joseph said. "It helps it to go quicker. All you have to do is put your finger down on the scanner, it (student information) pops up on the screen and you go."
Barb Smith, nutrition coordinator, said students have gotten accustomed to the fingerprint readers.
"The kids are really quick," she said. "They put their finger down. They move on. They don't have to worry about thumbing through their wallet for a card."
Asked about concerns parents might have about germs being passed by students placing fingers on the same pad, she didn't think that was a factor. She said students come in contact with many things during the day — door handles, for instance.
"I don't see that more kids are sick because of that," Smith said. "It is a good point. It's a good question, but all in all I think it's pretty swift."
In the middle school library, classes pick out books to read during the beginning of class and then they check out the books at one time at the end of the period. Barbara Bahm, librarian at the middle and elementary schools, said a class of 25 usually takes about five minutes to run through with the scanner.
She said the system works well at the middle school, and some of the younger students at the elementary school are getting better at using the scan.
She said she jokes with students if they need assistance with the scanner.
"I watch a lot of 'CSI,'" she said.
Superintendent Randy Weseman might expand use of the technology.
"I'm looking at the same thing in how we look at security to buildings," he said. "That might not be fingerprint readers. At some point, we'll be looking at that in that context and how it's going to save us money."
Milhon noted that the readers even could expand to the transportation department and could track when students get picked up from school, with some systems tracking where students are when traveling on a bus.
"I could definitely see a possibility there," Milhon said.
Bonner Springs school officials said they also use the fingerprint scanner in the lunchroom, while McLouth and Basehor-Linwood school officials said students enter four-digit PIN numbers when going through lunchroom lines.