THS

senior Scates signs with Crusaders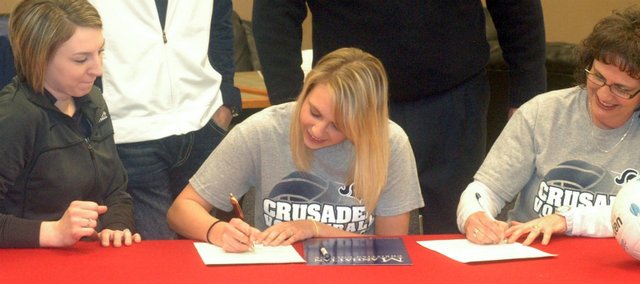 As far as Sagan Scates was concerned, her college destination had been decided long ago. However, whether she'd continue her volleyball career was still in question.
The Tonganoxie High senior answered that question last Thursday when she signed a national letter of intent with Manhattan Christian College. She did so in the company of friends, family and coaches in the THS Chieftain Room.
"I was just debating whether or not I wanted to play," Scates said. "I love volleyball, but college is going to be so new in itself, so I didn't know if that's one other thing I wanted to put on my plate, but (MCC) is different. It's not like I'm going to be selling my soul to volleyball."
Scates, who began playing volleyball as a fifth-grader, spent the last two years as the Chieftains' starting setter. She split duties with junior Hannah Kemp, but assumed a full-time role when Kemp suffered an injury last season.
According to THS athletics director and former volleyball coach Brandon Parker, the confidence Scates gained as a full-time starter was instrumental in preparing her to play at the collegiate level.
Parker and his wife, Tiffany, began coaching Scates when she started playing eight years ago.
"Like a lot of younger people, she didn't quite believe in herself, but now, she feels so comfortable about where she's going to school and what she's going to be doing," Parker said. "As coaches, that's all we can ask for.
"It's been fun to watch her progress and grow up into a young lady who now is in total control of her life."
The volleyball court hasn't been Scates' only venue of choice during her Chieftain career, as she also played basketball as a freshman and ran track for three years. However, volleyball has always held a special place in her heart. She's played competitively since she first picked up the game and wanted to be sure she was joining a program that could match her competitive nature.
As it turned out, the Crusader program proved to be a perfect fit. She'll join a squad that went 23-10 last season on its way to a second-place finish in the Midwest Christian College Conference.
"I wasn't going to do it if I was going to be taking a step down from my high school level," Scates said. "That wasn't really something that intrigued me. I get frustrated if I'm not playing at the same level, so going there and seeing the level that they're playing at was encouraging to me. It's going to be a challenge for me."
Scates said she's also looking forward to building intra-squad relationships with her teammates similar those she's built during her time in Tonganoxie.
Even though she's hung up her red and white jersey for the last time, Scates said the four years she spent as a Chieftain have been instrumental in getting her ready for the college game, and she won't soon forget the experiences she's shared with her coaches and teammates.
"It's completely prepared me," she said. "Brandon and Tiffany are great. They make it about so much more than volleyball. It's so much more than a game to me now. It's about the team atmosphere and working with the girls. I've realized that because of them."