TMS

plays host to youth basketball camp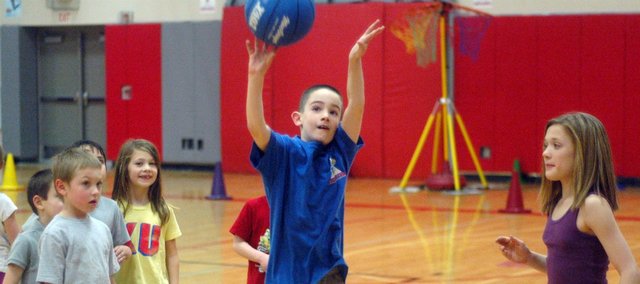 Photo Gallery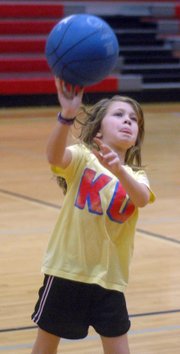 Tonganoxie youth basketball camp
Last week, more than 50 first- and second-graders gathered in the Tonganoxie Middle School gym for a four-day basketball camp. Here are some photos from the final day.
Phil Jeannin may have retired from coaching Tonganoxie Middle School in 2010, but he can still be found roaming the gym for a few days each year.
Such was the case last week, when Jeannin had his annual youth basketball camp. More than 50 first- and second-graders showed up for the four-day clinic, in which Jeannin and his staff touched on many of the game's basic fundamentals.
Teaching points included basic terminology and defensive drills, as well as dribbling and shooting exercises — often incorporated into relay races or competitions.
"Most of them haven't played before," Jeannin said. "Some of them are a little more advanced than others, but you've got to work for the whole group in general. I think it's important for them just to get an idea. Sometimes, they just need to be around other kids. Just a little social setting is important for them."
Jeannin, or "Coach J" as his former athletes know him, runs the camp in February to offset the third- and fourth-grade basketball league that takes place each year before Christmas. While he admitted several campers enter the camp with little to no basketball experience, he noted that many return for a second year before enrolling in the winter league as third-graders.
Jeannin, who coached at TMS for 37 years before his retirement, said he may not see many familiar faces these days, but often knows where his current campers came from before they ever walk through the door.
"For me, what's so neat is, so many of these kids, I've had their parents in school," he said. "That's what makes it really good."
Jeannin expressed gratitude for his staff, which is made up of adults and older youth. With the volume of kids the camp draws, he said the counselors give him a better opportunity to oversee the group as a whole, as well as work with kids on an individual basis.