Leavenworth County business outlook appears brighter, officials say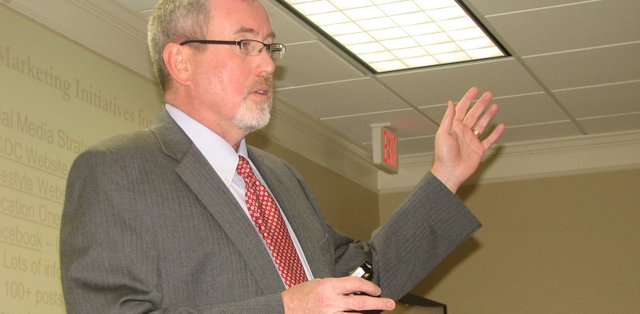 The sun may be rising on the Leavenworth County business landscape, economic development officials said Thursday.
At a Leavenworth County Development Corp. board meeting in Tonganoxie, LCDC officials said that so far in 2012 the county had attracted more interest from prospective new businesses, and that outlooks were brightening among existing business owners.
LCDC executive director Steve Jack said the group had received 15 leads on potential new businesses during the year's first two months, and that number had continued to tick higher during the first days of March.
"It's been crazy busy," Jack said.
In each of the past three years, LCDC has received about 50 or 60 leads, he said.
Also encouraging, Jack said, was that the group had been able to submit proposals for possible sites in response to more of those leads than it had in the past, as well. He said the presence of Tonganoxie's new city-owned empty industrial park and Leavenworth's First City Center — a former Walmart building converted into about 100,000 square feet of office space — had helped draw more interest.
"It's been really encouraging," Jack said.
LCDC economic development coordinator Cecilia Harry reported Thursday that she'd noticed a "more positive, energetic vibe" among business owners in the county so far in 2012, as well.
Harry said she'd visited about 10 businesses so far this year and talked with their owners, and many had reported a better outlook than they'd had a year before.
"To hear stuff like 'We're on fire' is just, I think, really awesome," Harry said.
Though things are looking up, Jack said, state and Kansas City-area development officials have reported that some real estate agents and developers don't quite consider Leavenworth County part of the KC metro area.
"Folks in the KC area just think we're too far out of the loop," Jack said. "They just think we're too far away."
During a discussion of LCDC's goals for 2012, Jack said the group planned to combat that perception with email blasts to local and national realtors and business site locators promoting the county's offerings that are well within reach of Kansas City.