THS

grad Carlin wraps up basketball career at Ottawa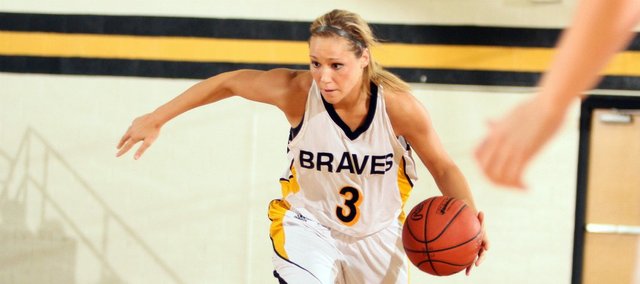 Well before she ever donned an Ottawa University jersey, Tonganoxie High alum Shannon Carlin was on coach Bruce Tate's radar.
Carlin, a 2008 Chieftain grad, received much attention from Tate and the OU coaching staff as she wrapped up her high school career. However, a spot on the Braves' roster wasn't what she had in mind.
Well, at least not right away.
Instead, Carlin took her talents to Kansas City Kansas Community College, where she averaged 7.2 points and 3.4 rebounds per game in two seasons.
When her time as a Blue Devil was about to expire, Carlin re-opened communication with Tate. The second time around, conversation ended with her signature on a national letter of intent.
"We definitely kept in touch," Carlin said. "Toward the end of my sophomore year, I sent (Tate) an email and told him I was ready to move on and play at the next level. We had some visits and I decided Ottawa was the place I wanted to be."
Carlin arrived at OU prior to the 2010-11 season, but hardly got off to the start she envisioned. She averaged just 4.2 points and 2.8 rebounds as a junior, prompting her to consider hanging her jersey up for good.
But, after discussions with Tate, any thoughts of quitting were put to bed.
"I questioned whether or not I wanted to keep playing, but I've never quit anything in my life and basketball is definitely my passion," Carlin said. "We worked things out together and we worked through it."
Tate's assistance didn't stop at off-the-court conversation. During the offseason, the duo logged several hours in the gym and weight room in an attempt to overcome the obstacles — both mental and physical — which kept Carlin from succeeding her junior season.
One year later, the hard work paid off. Carlin saw improvement across the stat sheet as a senior. She averaged 8.8 points and 4.1 rebounds en route to All-Kansas Collegiate Athletic Conference honorable mention honors.
She was at her best against KCAC opponents, averaging 9.5 points per game in league play.
"We had a great summer with her and she turned into a phenomenal leader for us her senior year," Tate said. "She was one of our top scorers and a team captain. She was a tough matchup for everybody. Her career at Ottawa was good and we're definitely going to miss her."
Carlin's emergence didn't go unnoticed by her peers, either, as the OU students voted her the school's Queen of Hearts. She was crowned in a ceremony on Feb. 18 when the Braves played host to Kansas Wesleyan.
With her basketball career officially in the books, Carlin has now set her sights on joining the work force. After graduation, she hopes to become a sports broadcaster for a radio or television station.
As she works toward making that goal a reality, she does so knowing her time as a Braves has helped prepare her for plenty more success down the road.
"There are a lot of things that playing a college sport does for you," she said. "I think basketball, of course, it teaches you a lot about leadership and respect. I think that my time playing basketball at Ottawa, and just the school itself, they've taught me about self discipline and teamwork. Those are things that are going to help me in the long run."