Tonganoxie postmaster: Office not closing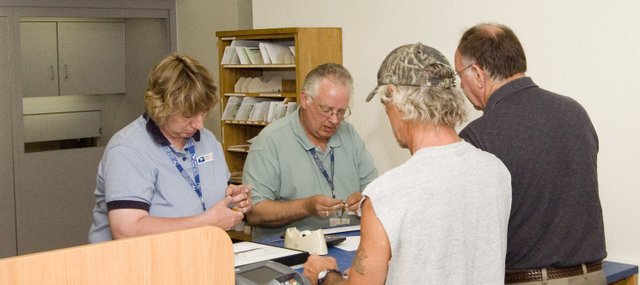 The U.S. Postal Service has been looking into closing rural post offices since last summer to combat declining revenues in the last year, and now speculation has arisen that the Tonganoxie post office could be closing.
But Postmaster Ron Hubbard said those rumors currently are unfounded.
"If they were going to close my post office, they would have a town meeting," Hubbard said Friday. "I've not heard of a town meeting or intent of a town meeting."
He said a few tentative plans are in the works for some offices to gain routes and others to lose routes "but that won't affect how they're open for business, at least not in the near-term that I'm aware of."
The Postal Service is considering some 150 post offices in Kansas for closure, but nearly all are extremely rural communities.
Hubbard said he has not heard of any post offices of Tonganoxie's size being discussed for possible closure.
But that doesn't mean it couldn't be an option down the road.
"That's not to say in six months, or a year or five years, someone won't look at that, but to my knowledge nothing like that is going on around here," he said.
The Tonganoxie post office moved from its longtime location on Fourth Street in downtown Tonganoxie to a new building at Laming Road and Woodfield Drive north of U.S. Highway 24-40 in June 2010.