Severe-weather sirens meant to reach only outdoor areas, Leavenworth County official says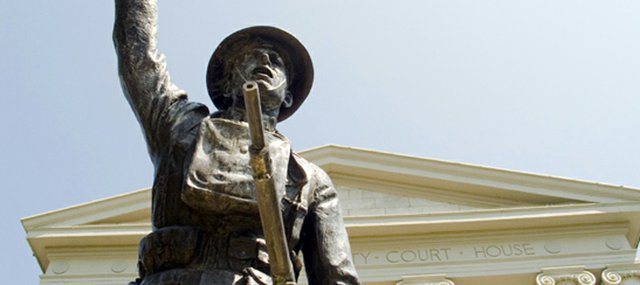 Sirens sounding again
Leavenworth County Emergency Management will sound the county's outdoor warning sirens again at 1:30 p.m. Tuesday, as part of a statewide tornado drill that takes place during Kansas Severe Weather Awareness Week.
Regular monthly tests take place at 11 a.m. on the first Wednesday of each month.
The high-pitched whine of emergency weather sirens rang throughout Leavenworth County March 7, just as it does the first Wednesday of every month at 11 a.m.
Their sound didn't reach the inside the home of Angie Jacobs-Munoz near the southern edge of Tonganoxie, though. The sirens have no chance to be heard among the din of the television and children in her home, Jacobs-Munoz said.
"If you're inside, you don't hear anything," she said.
Jacobs-Munoz was one of several residents who posted messages on The Mirror's Facebook page (facebook.com/TonganoxieMirror) last week saying they had trouble hearing the sirens from their homes, after The Mirror asked its Facebook fans if they heard them during their monthly test.
It's no surprise that a few residents couldn't hear the warning wail from inside their homes, though, said Leavenworth County Emergency Management Director Chuck Magaha. The outdoor weather warning sirens aren't designed to reach indoors.
"The outdoor warning sirens are designed for just that purpose: to be heard outdoors," Magaha said.
The sound is meant only to reach people outside to let them know to head indoors and check a weather radio, television or something else to see what's going on, Magaha said.
The sirens, 46 of which are spread across Leavenworth County, are placed about five miles apart to accomplish that purpose, he said. Because some residences happen to be much closer to the sirens than others, some people will be able to hear them inside and others won't.
Tonganoxie has three sirens nearby, Magaha said. One sits outside city hall downtown, another sits at the county annex building off U.S. Highway 24-40, and one is on Hubbell Hill west of town. Basehor also has three nearby sirens: one outside the Fairmount Township Fire Department station on 155th Street, one near the Field of Dreams sports complex to the north and one south of town near Glenwood Ridge Elementary School.
People indoors should rely on a different device for severe weather warnings, Magaha said: a weather radio.
"We like to think of them as the smoke detectors of severe weather," Magaha said of the radios.
The devices are available at Tonganoxie City Hall for about $30, and Kansas City-area Price Chopper stores also sell them for about that amount as part of a program in conjunction with area emergency managers.
As the peak of severe weather season, April through June, approaches, families should also plan where to go in case of weather emergencies and also put together a preparedness kit in case a storm or tornado displaces them from their home, Magaha said.
The value of those kits was demonstrated by the tornado that struck Harveyville late last month, he said. A number of victims had to find somewhere else to stay afterward.
"Those people, they lost everything," Magaha said.
He suggested residents visit the website preparemetrokc.org to see what they should include in their preparedness kit.
Jacobs-Munoz said her family does have a weather radio and keeps an eye on the television when severe weather is nearby. The family of seven also has a plan in case of severe weather: Head to the basement and wait under the stairs.
"The kids are pretty aware of where they go and what they do," Jacobs-Munoz said.
She said she could faintly hear the warning sirens from outside her home, but she would feel more at ease if their sound reached inside her walls.
"To me, it makes more sense to be able to hear them from the inside of your house," Jacobs-Munoz said.