State basketball round-up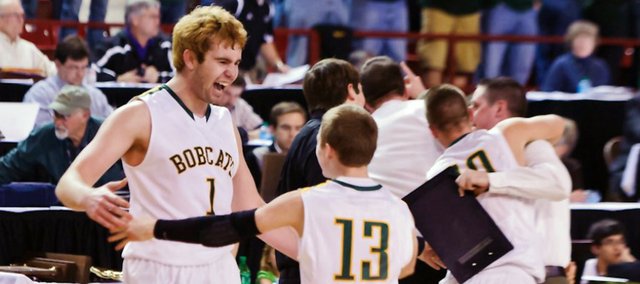 Another basketball season is in the books as Kansas high schools wrapped up the 2011-12 campaign with last week's state tournaments.
In Class 6A action, Wichita Heights swept the boys and girls titles Saturday at Wichita State's Charles Koch Arena. The girls defeated Olathe Northwest in the finals, 64-46, while the boys held on for a 67-60 win against Blue Valley Northwest.
Wichita-Kapaun Mt. Carmel swept the 5A tournament at the Topeka Expocentre. The boys defeated Kansas City-Harmon, 68-57, and the girls beat Blue Valley, 51-44.
The McPherson girls won a 4A title with a 34-27 victory against Holton and Kaw Valley League member Basehor-Linwood the boys crown with a 56-52 victory against Ottawa at the Salina Bicentennial Center.
The Scott City boys clinched the 3A championship with a 61-47 win against Nemaha Valley, while the Silver Lake girls needed overtime for a 51-47 win against Burlington at Hutchinson Sports Arena.
In 2A competition, the Jefferson County North girls defeated Olpe, 51-40, and the Sterling boys cruised by Meade for a 71-49 victory at Kansas State's Bramlage Coliseum.
The Ashland boys won a 1A-Division I title with a 67-55 win over Udall, and the Hoxie girls followed suit with a 55-45 win against St. John-Hudson at White Auditorium in Emporia.
The Frankfort boys needed two overtimes, but won a 1A-Division II title with a 62-53 victory against Otis-Bison. The Sharon Springs-Wallace County girls earned a 48-46 victory over Hutchinson Central Christian at Fort Hays State.