THS

female lifters take third at state meet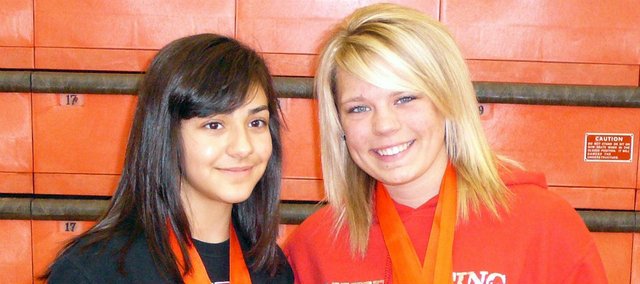 The Tonganoxie High girls powerlifting team didn't expect a high finish at the Class 4A state meet, so it came as a bit of a surprise when the Chieftains heard their name called during the awards ceremony.
Led by senior Makayla Sample and sophomore Jessica Rubio, THS finished its season on March 3 with a third-place finish at Abilene High School.
"I really didn't think we were going to place as a team," Sample said. "We were honestly getting ready to walk out when they said 'third place: Tonganoxie.' I was really shocked, but it felt good as a senior. Those are my girls and we did that together."
The Chieftains combined for 28 team points, giving them a two-point advantage over fourth-place finisher De Soto.
Sample, the girls' only fourth-year lifter, won her weight class with a combined total of 505 pounds. She lifted 210 pounds in the squat, 140 pounds in the bench press and 155 pounds in the hang clean. Her three-lift total was matched by Royal Valley's Marie Wahquahboshkuk, but Sample had a higher power rating, which gave her the edge.
The state title is the first for Sample, who finished fourth, third and second in her first three seasons, respectively.
"After I got third my sophomore year, I kind of realized I wanted to get second," Sample said. "Then after my junior year, I realized I had to get that gold. With powerlifting being a sport that's uncommon for a lot of girls, it feels good to know I worked hard for that."
Rubio recorded lifts of 200 pounds in the squat, 120 pounds in the bench press and 145 pounds in the hang clean to win her weight class outright. She finished the season undefeated.
Despite knowing she and Sample each racked up 10 team points, Rubio was equally as shocked to hear of the Chieftains' top-three finish.
"It was a big surprise because last year, we had a lot more girls in (the state meet)," she said. "Makayla and I got first, so we scored 20, but we weren't quite sure how the other teams were doing."
Senior Parker Osborne and sophomore Allison Thompson added four points apiece by finishing fourth in their respective weight classes.
The THS boys were also in action at the state meet, finishing 16th with a total of five points. Sophomores Cole Holloway and Hunter Sturgis each earned two points with fifth-place finishes, while senior Derek Lingo added a point with a sixth-place finish.
Girls team results
Basehor-Linwood — 105

Royal Valley — 50

Tonganoxie — 28

De Soto — 26

Pratt — 20

Clearwater — 19

Abilene — 14

Smoky Valley — 13

Eudora — 10

Haven — 8

Wamego — 5

Clay Center — 2

Augusta — 1

Chapman — 1
Boys team results
Basehor-Linwood — 104

Buhler — 72

Clearwater — 45

Wamego — 36

Chapman — 22

Clay Center — 20

Abilene — 19

Eudora — 18

Haven — 14

Augusta — 10

Hiawatha — 10

Pratt — 8

Royal Valley — 8

Cheney — 6

De Soto — 6

Tonganoxie — 5