Farmer gives $2,500 to Basehor Historical Museum after winning contest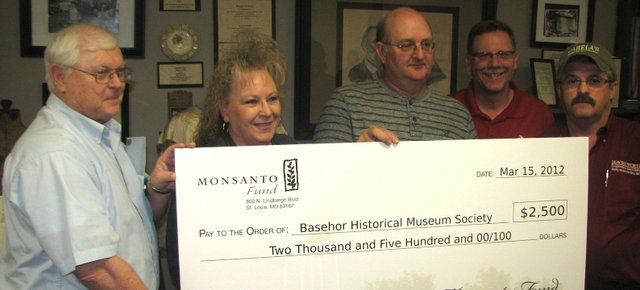 In the small northern Iowa town where Mike Glasnapp grew up, he says, there's almost nothing left.
So he said he understands the value of preserving the history of a community. And as he presented the Basehor Historical Museum with a $2,500 check Thursday, he said he knew that purpose was being served.
"It looks like you guys have done a good job here," said Glasnapp, a sales manager for the Monsanto Co.
He stood with the oversized check in front of a portrait of Reuben and Ephraim Basehor, the town's founders, because of Mel Theno, a farmer who lives north of Basehor. Theno won a biannual drawing to receive a $2,500 donation from Monsanto to the charity of his choice, as part of the company's America's Farmers Grow Communities program.
Theno, who said he'd lived near Basehor since he was 1 year old, said he, too, understood the value of preserving the town's history.
"If somebody doesn't," Theno said, "people will forget it."
He said he had volunteered and supported the historical museum in the past, as his parents did before him.
"It's just a good place," said Theno, who farms mostly corn and soybeans.
The Monsanto program, now in its second year, awards $2,500 donations twice a year in 88 different counties in Kansas and about 1,250 counties across 29 states. Glasnapp, who represented Monsanto at the event, said the company had given out about $3 million to communities so far this year.
The agricultural company relies on rural communities for its business, Glasnapp said, so it created the program as a way to support them.
"If the growers and communities aren't vibrant and successful, then it makes it a lot harder for us," Glasnapp said.
The gift, which amounts to a bit less than 20 percent of the Basehor Historical Museum Society's budget for last year, was a "really pleasant surprise" when leaders first learned of it about two months ago, said Ken Massingill, chairman of the society's board of directors.
"We live off of donations," Massingill said. "That one helps out a bunch."
Museum director Carla Crawford said part of the donation would go toward an exhibit on the history of farming in southern Leavenworth County, planned for this summer. The exhibit will make use of records and photos dating back to the 1920s, from the Leavenworth County Kansas State University Extension office.
Crawford said she was grateful that Theno thought of the museum when he won the contest.
"It just reaffirms that what we're doing is important," Crawford said.