Official offers details on Wyandotte County development at Basehor Chamber meeting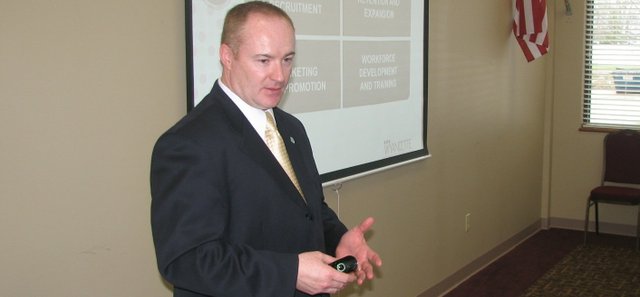 Facebook contest
The Basehor Chamber of Commerce is having a contest through its Facebook page during the month of March.
Anyone who "likes" the page (facebook.com/basehorchamber) by the end of March will be entered into a drawing for four tickets to a Kansas City T-Bones game.
Wyandotte County's western end, with its stadiums, casino, speedway and more, has famously developed rapidly in recent years. But Greg Kindle said Thursday he wants to spread some of that development to all of the county's corners.
And even though such development would be farther away from Basehor, it would still provide opportunities for southern Leavenworth County, Kindle told the Basehor Chamber of Commerce at its monthly meeting.
Kindle is the new president of the Wyandotte County Economic Development Council, having taken over in December. That group, similar to the Leavenworth County Development Corporation, is a public-private organization that works to attract new businesses and keep existing ones.
When he first came aboard three months ago, he said, he thought the group was focusing a bit too heavily on just the Village West area, and he decided he wanted to spur development county-wide.
"It seemed to me that some folks maybe didn't see how all these things connected," Kindle said.
One area of focus, he said, is a spot across the county from Village West: the industrial park surrounding the General Motors Fairfax Assembly Plant.
Surrounding land and other buildings currently going unused could be attractive to auto parts manufacturers, Kindle said. He said his group was working with the surrounding property's current owner, a trust created after GM's 2009 bankruptcy, to help draw some potentially well-paying manufacturing jobs, some of which could go to Leavenworth County residents.
"We're pushing those folks incredibly hard to pick a developer, pick one that we like and pick them soon," Kindle said.
Also presenting opportunities for Leavenworth County, he said, could be two incubator programs designed to help startups. One such project in downtown Kansas City, Kan., focuses on information technology, while another near the Kansas University Hospital concentrates on bioscience. Companies in Leavenworth County could receive investment or support from those projects, he said.
And as for the Village West area just to Basehor's east, Kindle said, the group will continue seeking office and multi-family residential developments to accompany the retail and entertainment options there. Though busy at night and on the weekends, he said, the area could use more crowds during the week.
"We need more day traffic," Kindle said. "We need more day jobs."
Kindle said the new Cerner Corp. office complex in Village West should fill one of two planned six-story buildings by the end of the year. The medical software company is expected to employ about 4,000 people in the area eventually, officials have said.
Cecilia Harry of the LCDC, also at the chamber meeting, said she believed Basehor had a chance to develop similarly to Wyandotte County in the future, if the city makes it a priority.
"Basehor's not that different," Harry said.