Chieftain grad Pistora finishes track career at K-State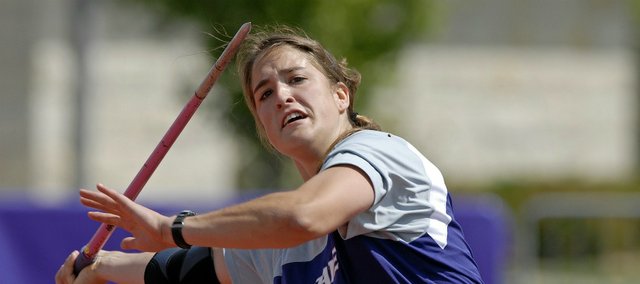 When Ali Pistora donned a Tonganoxie track uniform, she did so as one of the top javelin throwers in the state. The 2007 Chieftain grad set school records and climbed the high school ranks, all while garnering statewide attention.
Pistora elected to stay in her native state after graduation. She took her talents to Kansas State University, where she's majoring in kinesiology. Her home remained within the Kansas borders for the next four years, but her success in the field went far beyond.
Pistora's K-State career came to a close when the 2012 indoor season ended on Feb. 24. When it was all said and done, she walked away with 14 individual titles and one appearance each in the NCAA and USA outdoor championships.
"Ali did a great job for us," K-State throwers coach Steve Fritz said. "She's a kid who is a great person and works extremely hard. There's nothing more that I could have asked from her. She'll be a great ambassador for the program."
After redshirting in the fall of 2007, Pistora officially began her Wildcat career at the 2008 Emporia State Spring Twilight. She won the javelin — her first of 11 career gold medals in the event — with a throw of 148-02. Her throws eclipsed the 150-foot mark as the season progressed, and the capped off the year with a seventh-place finish at the Big 12 championships.
Early in her career — particularly during her redshirt season — Pistora benefitted from working with 2009 K-State grad and four-time All-American Loren Groves.
"I wasn't very good my freshman year, so it was good to sit out," Pistora said. "It's always good to have someone (like Groves) above you like that because that's who you want to strive to be."
As a sophomore, Pistora finished fifth at the NCAA midwest regional meet, which guaranteed her a spot at the national finals. She couldn't replicate that accomplishment her junior season, but was invited to the USA championships.
Pistora made the made the most noise as a senior during the 2011 outdoor campaign. She earned four gold medals in the javelin, including one at the Kansas Relays in Lawrence. The meet was especially memorable for Pistora, who threw a career-high 170-11 with her family and friends watching from the stands.
"That was a big deal since I'm from Lawrence," Pistora said. "Just having all the people I grew up with there and being able to watch me throw, that gets me hyped up. That day, it just clicked. It's one of the few times you can feel good about getting first and having a personal best."
Later that season, she set a personal best in the hammer throw with a toss of 170-06.
Pistora's outdoor career ended at the west regional meet. Only the top-12 throwers from each meet move on to nationals, and Pistora just missed the mark, finishing 13th. However, according to Fritz, her finish among the tournament field may not have been the best measure of her performance.
"The regional meet, that was nothing on her," Fritz said. "She was just stuck in a region that was way tougher than the other ones."
Fritz added that Pistora's throw of 160-11 would have been top-five in some other regional fields.
With her javelin and hammer throw days in the books, Pistora added one final stamp to her career during the 2012 indoor season. After failing to win a gold medal in the weight throw in any of her first three seasons, she won the event in three consecutive meets. During that span, she threw more than 60 feet on two occasions — the only two times she did so in four seasons.
The accomplishments came as somewhat of a shock to Pistora, who admitted she primarily competed in the weight throw to stay fresh for the outdoor seasons.
"It was just something fun to do before javelin season," she said. "Fritz and I never thought it would amount to anything, so it was quite a surprise that I did throw that far."
Now, as she nears graduation, Pistora said she has plenty of memories to look back on. Though she admitted her track career took a lot of time and effort, she assured she'll always cherish the time she spent and friends she made in the Wildcat program.
"(Track) was a huge part of my life in college," she said. "I'll just remember the people, mainly. They're like my brothers and sisters out there."