Chieftain track and field begins prep for 2012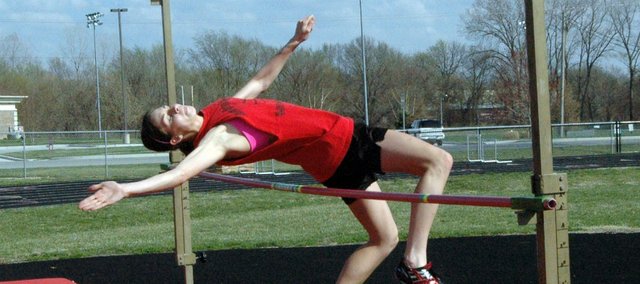 With the winter sports season officially in the rear view mirror, high school athletes across the state have moved from the gym to the great outdoors.
In recent weeks, several Tonganoxie High students have been seen strewn across Beatty Field in preparation for the upcoming track and field season. Prior to this week's spring break, the Chieftains were treated to sunny skies and spring temperatures, putting them in good spirits as the start of the 2012 campaign draws closer.
"The kids are full of energy and the adrenaline is flowing," girls coach Chris Weller said. "Everybody seems to be in a good mood. The weather has been just darned near perfect. I've never experienced anything like this in 31 years of coaching."
The THS girls enter the season with a pair of returning state participants. Junior Jenny Whitledge led the charge last year, competing in three different events. She brought home a gold medal in the high jump and also participated in the long jump and 300 hurdles. Sophomore Haley Griffin joined Whitledge in the high jump, but did not place last year.
With a young but more experienced roster this season, Weller is hopeful the Chieftains can send plenty more to Wichita State's Cessna Stadium at the end of the season.
"Both my girls in the high jump are state jumpers from last year and I have a really good nucleus of throwers this year," he said. "We're a young team, in a way. There's only one senior in (thrower) Makayla Sample, and I'm hoping she can make it to state this year, too."
On the boys side, coach Scott Peavey will look for a group of seniors to lead the team in 2012. Senior high jumper Dylan Jacobs is the team's only returning state qualifier, but Peavey has his eye on several other athletes as the season gets underway April 3 at the Lansing Invitational.
"It's fantastic to actually get out here on the track and get the kids working," Peavey said. "We have a great group of seniors in the distance and field events and a good, strong core of young guys coming up. There's some excitement in the program."
Senior thrower Tyler Stockman didn't participate in last year's state meet, but has been hard at work in the offseason. He recently took second in the shot put at the USATF Youth Indoor Championships in Normal, Ill.
"Stockman has done a fantastic job," Peavey said. "He's a guy that will have a chance to score some points in Wichita."
Other seniors who Peavey expects to succeed this year include distance runners Matt Briggs, Patrick Rachford and Marcus Titterington, as well as thrower Dallas Jacobs and pole vaulter Cody Martin.
During spring break, athletes have the option of participating in voluntary practices. Once school resumes, Peavey and Weller will begin to finalize the top spots in each event.
Peavey doesn't necessarily expect the team's strongest showings early in the season, but hopes the Chieftains are able to find a rhythm as the state meet draws closer.
"Our goal in our program is to peak in May," he said. "There will be some cobwebs for the first couple meets I'm sure, but it's about teaching things correctly and eventually hitting our stride at the middle and end of April."
2012 THS track and field schedule
April 3 — Lansing Invitational
April 6 — Basehor Invitational
April 13 — Tonganoxie Invitational
April 19 — Eudora Invitational
April 27 — De Soto Invitational
April 30 — Perry Invitational
May 4 — SM North Relays
May 4 — Piper Invitational
May 9 — KVL Meet (Location TBA)
May 18 — Regionals (Location TBA)
May 25-26 — State (Wichita)