TMS

nation's lone middle school participating in Lego pilot study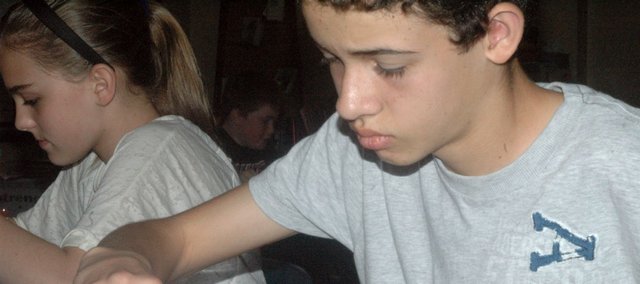 Playing with Legos isn't just for fun for some Tonganoxie youths.
Sixth-graders at Tonganoxie Middle School are taking part in a study to determine whether Legos can help drive up test scores. And TMS is the only middle school in the nation to participate.
Lego partnered with Pitsco, a Pittsburg company that specializes in educational products for its Build to Express program. The program tracks a class for three years to determine whether it could affect test scores.
Brice Rockers, who works at Pitsco, said psychologists created the product, which originally was designed to help with businesses with professional development.
"They decided it would work in schools as well," Rockers said.
The Build to Express kit consists of 198 pieces — a combination of everything from Lego blocks, miniature skeletons and other characters to tiny headgear, shrubs and a miniature treasure map.
Currently being used in language arts at TMS, the kits are designed to help students express creativity.
"Its goal is to help the kid who can't necessarily say what they're feeling or thinking," Rockers said. "One of the big things with students is when they stand up to explain what they built, everyone's looking at the model instead of them."
Rockers is the brother of Rachel Padfield, TMS seventh-grade special education teacher.
Padfield and Rockers had been talking about educational opportunities when the Build to Express program came up.
"I wanted free Legos from my brother and he told me 'no,'" Padfield joked.
But sixth-grade students were furnished with a Build to Express kit. The students will be given new kits as seventh-graders and then eighth-graders, so the school eventually will have kits for three class levels when the three-year study concludes.
Elementary schools in Wichita, and suburban Dallas and Atlanta also are participating in the study.
Shelley Hunter, TMS sixth-grade language arts teacher, has been using the kits in her classroom. She has her 75 students break out the kits once every two or three weeks as part of writing exercises.
Hunter said the kits have been valuable.
"It allows students to express themselves at their levels and it doesn't appear different from any other student," Hunter said. "It's unique no matter their ability and they can participate no matter their ability."
Though the students must leave their kits at school, some have continued their work at home.
Sixth-grade Nick Skinner said he was expanding a writing assignment at home using alien-themed Legos.
"The Legos help get your mind going on what stories I can come up with," Nick said.
Hunter has received calls from a middle school in Lee's Summit, Mo., about doing the study, so Tonganoxie could have company. But she said many are reluctant because of concerns that it will take away from traditional assessment preparations.
"I think this builds confidence in kids and pride in their work and takes away from the stress of the state assessment," she said.
She said she's eager to see the results when the data is completed after her sixth-graders finish the eighth grade, "but to see already what it's done in my class, I'll continue to use to it as long as I have the kids."