Chieftain golf team to open season Saturday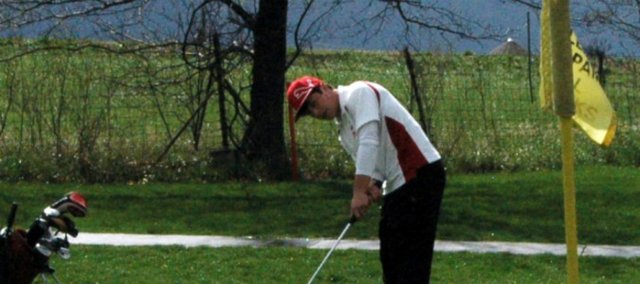 One year removed from its best finish in school history, the Tonganoxie High golf team has returned to the links.
The Chieftains, who finished second at last year's Class 4A state meet, will open their 2012 campaign Saturday when they participate in the Sunflower Classic. The seven-team tournament, hosted by Bonner Springs High School, will take place at the Sunflower Hills Golf Course.
"It's a very challenging course," senior Colby Yates said. "It's supposed to be nice, but it will play just as tough as any course we'll play all year, so it will give us a good judgment of where we are."
Tournament action will begin at 11 a.m. Other teams in the field include St. James Academy, De Soto, Bishop Ward, Mill Valley and Turner.
Yates, who took fourth individually at state last year, is one of three seniors on this year's varsity squad. He's joined by Kody Campbell and and Tanner Hale. All three were members of last year's state team, which is back in its entirety this year. The remaining state participants include juniors Tyler Hall and Aaron Williams, as well as sophomore Drew Sandburg.
"They've been there, done that. Nothing is going to take them by surprise this year," coach Jared Jackson said. "The key is just to focus on the day-to-day work that got us there last year. They have to just know that what happened in the past is the key to success."
A win Saturday would be Tonganoxie's third straight at the Sunflower Classic. The Chieftains claimed the 2010 team title with a score of 332 and, despite adverse weather, won last year's tournament with a 173. The 2011 tournament was shortened due to winter weather conditions.
"We've finally got some good weather this year," Yates said. "Tomorrow's probably the first time we'll play this tournament in the sunshine and over 50 degrees."
Tonganoxie will go with Yates, Hale, Campbell, Williams and Hall for Saturday's action. Sandburg is out of town and won't be available. Only the top four individual scores from each team will be counted.
"The last two years have given us positive momentum going into the season by winning that first tournament, and I hope we can do it again tomorrow," Jackson said. "If they play to their potential, then I think we have a chance."