THS

baseball struggles in season opener
Chieftains swept in doubleheader at Bishop Ward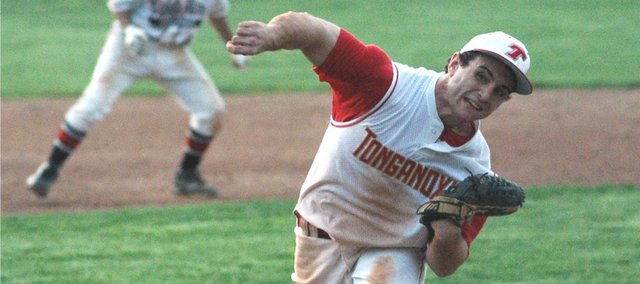 Photo Gallery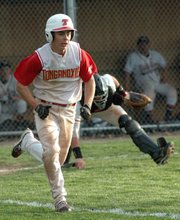 THS baseball at Bishop Ward
The Chieftain baseball struggled in its season opener and dropped two games at Bishop Ward.
Kansas City, Kan. — With nine players gone to graduation last season, including four who now play collegiately, Tonganoxie High baseball coach Mitch Loomis knew inexperience would likely be an issue in 2012.
Starting the year against one of the state's top teams didn't make things much easier.
The Chieftains got off to a rocky start, dropping both ends of a doubleheader Monday at Bishop Ward. They suffered a 14-2, five-inning loss in the opener, followed by a 15-5, three-inning defeat in the second game.
"The thing we've got to understand is, we've just got to do our job and let everything else fall," Loomis said. "We preach real hard to not worry about who we're playing. A ground ball is a ground ball whether it's Bishop Ward or the Royals."
Senior Austin Harkrader, the only Chieftain who pitched at the varsity level last season, was roughed up in his 2012 debut. Junior Brett Shelton and sophomore Travis Woods each scored a run in the contest, but the mercy rule went into effect when the Cyclones (2-0) went up by double digits in the fifth.
THS (0-2) got off to a better start at the plate in the second game, scoring three runs in the first inning. The Chieftains took advantage of a pair of throwing errors by Bishop Ward, which allowed Harkrader, senior Ben Williams and freshman Connor Wentz-Hall to cross the plate.
Bishop Ward had an answer in the bottom half of the frame, though, as the Cyclone hitters touched freshman pitcher Justin Wagner for five runs.
Wagner got out of the inning, but was relieved by sophomore Shane Levy in the second. Levy struggled as well, allowing four runs in two innings.
"I think we saw that we've got to pitch the ball better," Loomis said. "We've got to throw more strikes. We made a great adjustment offensively between games and our defense was outstanding. There are a lot of positives, but we know the big adjustment is we've got to throw strikes."
THS got one back when Levy drove in Harkrader in the second, but Bishop Ward iced the game with eight runs in the bottom half of the frame.
Senior Tyler Freeman scored on a single by Wentz-Hall in the third for the Cheiftains' final run. BWHS added two more runs in the home half of the third, and the game was called due to lack of sunlight.
Despite the early deficit, Loomis was encouraged by his squad's determination at the plate. While he admitted inexperience can only be remedied with playing time, he's hopeful that players will see more success as they continue to mature throughout the season.
"They're not intimidated by anything," he said. "They're probably too young to know any better, which is a good thing.
"We've got a lot of guys that have got to understand they have to make plays that they've never made before. Those are all mental things. For the most part, the physical tools are going to be there. A lot of it is guys figuring out their roles."