Tonganoxie City Council agenda for March 26, 2012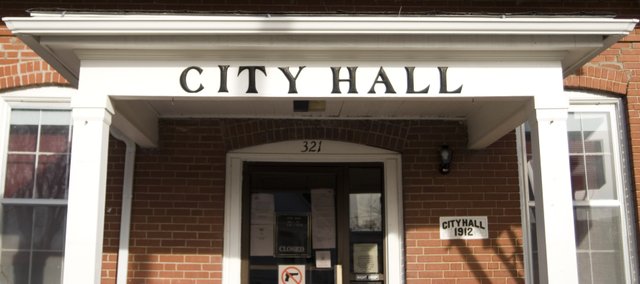 Open Regular Meeting – 7 p.m.
I. Pledge of Allegiance
II. Consent Agenda
a) Approval of Minutes –
Regular Meeting dated March 12, 2012

Special Meeting dated March 14, 2012
b) Consider Approval of Bills - Approve Pay Ordinance A-1679
c) Consider appropriation to Diamond International for dump truck repairs in the amount of $2,007.69.
d) Consider appropriation to Lochner for planner services in the amount of $2,415.00.
e) Consider appropriation to Micro-Comm, Inc. for repairs on the Waste Water Plant computer system in the amount of $3,068.50.
f) Consider appropriation to Tonganoxie Library for Ad Valorem Taxes in the amount of $9,473.18.
g) Consider appropriation to Mike Yanez for second half of March City Administrator services reimbursement in the amount of $3,270.00.
III. Open Agenda
"Members of the public are welcome to use this time to comment about any matter relating to City business. The comments that are discussed under Open Agenda may or may not be acted upon by the Council during this meeting. Please wait to be recognized by the Mayor, then state your name and address and all comments are to be directed to the chair."
IV. Old Business
a) Police Station Financing Options
b) Lease Agreement – City of Tonganoxie and Grinter Farms for lease of farmland at the Industrial Park site.
V. New Business
a) Consider accepting Planning Commission recommendation to approve Special Use Permit – Brandon Gier – Catering business located at 119 Hatchell Road and Ordinance 1339.
b) Consider accepting Planning Commission recommendation to approve Kelly Smith - Rezone Request from LBD (Limited Business District) to PUD-C (Planned Commercial District). Make and approve motion to adopt Resolution 03-12-01 and Ordinance No. 1340.
c) Janet Falk – Tongie Tidal Waves – Request permission to have preliminary and championship swim meets at Tonganoxie Water Park.
d) Fire Chief, David Bennett Fire Station Renovations.
e) Request Executive Session – Confidential data relating to financial affairs or trade secrets of third parties.
f) City Administrator Agenda
1)







g) City Attorney Agenda


2)



h) Mayor Agenda
1) Reminder of Special Council Meetings for Executive Sessions on Saturday, March 31, 2012 at 7:45 AM and on Sunday, April 1, 2012 at 12:45 PM.
h) Council President Agenda
i) City Council Agenda

VI. Adjourn
VII. Information & Communications (No Action Required)

a) PWWD#6 – 2012 Water Purchased and Sold
b) February 2012 Budget Report