Chieftain softball erupts in season-opening sweep
THS

scores 30 runs in 13 innings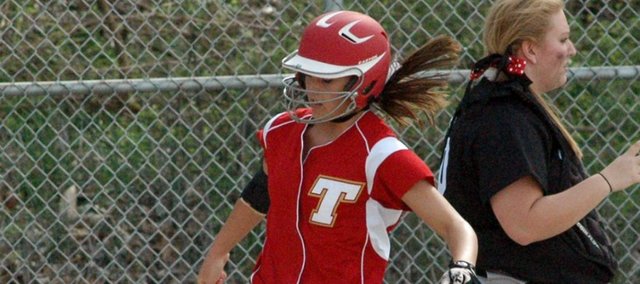 Photo Gallery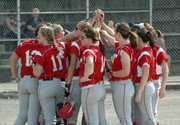 THS softball at Bishop Ward
Tonganoxie High opened its 2012 softball season in style, picking up 16-8 and 14-2 wins over Bishop Ward.
Kansas City, Kan. — Coach Lee Matzeder knew Tonganoxie High was capable of scoring runs, but he didn't expect this kind of debut.
The Chieftains scored a combined 30 runs in two games and opened their 2012 campaign Monday with a sweep of Bishop Ward. They shook off some early rust for a 16-8 win in the first game, then cruised to a 14-2, six-inning victory.
"Any time we're scoring 30 runs, I'm OK with it," Matzeder said. "We're going to have the bats to score some runs and the defense to back it up."
THS (2-0) wasted no time getting going in the batter's box, as five base runners crossed the plate in the first inning. Senior Makayla Leslie opened scoring with an RBI double, scoring fellow senior Kailan Kuzmic. Senior Amanda Holroyd, junior Lainey Walker, junior JayCee Knipp and sophomore Caly Maxwell each drove in another run to give the Chieftains a 5-0 lead.
Bishop Ward (0-2) answered with four in the bottom of the inning and each team scored two runs in the second, but Matzeder's squad never gave up the lead. After struggling early on, sophomore pitcher Morgan Oroke settled in and faced the minimum in the third and fourth innings. Oroke's teammates took advantage, extending the lead to 11-6 during that span.
Oroke went the distance, striking out nine and walking three for her first win of 2012.
"We're going to have to rely on Morgan to throw some strikes, and she did that," Matzeder said. "The strikeout to walk ratio, I'm OK with that."
Leslie led the way at the plate, going 2-for-3 with two doubles and two runs batted in. Walker also went 2-for-3 and drove in three runs.
Oroke returned to the circle for the second game, and she managed to carry over her momentum from the opener. She allowed just two runs on five hits. The Cyclones could only muster single runs in the third and sixth innings.
"She had said before the game 'I don't know if I can pitch two games,'" Matzeder said of Oroke. "She did very well in the second game. It was good psychologically for her to go two games since she'd never done that before."
Once again, the Chieftains backed Oroke's pitching with an offensive outburst. They racked up six runs each in the second and third to take control, then added two more in the sixth to put the mercy rule into effect. Senior outfielder Haley Smith drove in three runs on three singles, while Leslie belted a pair of triples and plated two.
When it was all said and done, five players had recorded at least two hits.
"The thing about it is, we don't have any weak hitters," Matzeder said. "Everybody in the lineup is capable of hitting the ball."
The Chieftains have more than a week off until their next action. They'll welcome Mill Valley to town on April 5 for their home opener.
Game 1
THS 520 224 1 — 16
BWHS 420 001 1 — 8
Leading hitters: Makayla Leslie 2-3, 2 2B, 2 RBI; Lainey Walker 2-3, 2B, 3 RBI.
Game 2
THS 066 002 X — 14
BWHS 001 001 X — 2
Leading hitters: Makayla Leslie 2-4, 2 3B, 2 RBI; Haley Smith 3-4, 3 RBI; Lainey Walker 2-4, 2 RBI; Shelby McDaniel 2-4, 3 RBI; Kailan Kuzmic 2-4, RBI.