GREEN

THUMBS

: Trieb Garden and Greenhouse enters 3rd year of operations with Sunday opening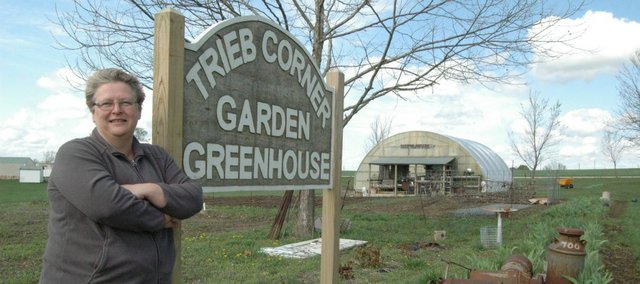 Trieb Corner Garden and Greenhouse is gearing up for just its third year of existence, but there's quite a history to the property on Leavenworth County Road 5 roughly 3 miles northeast of Tonganoxie.
Next to the greenhouse and garden is the former Trieb Grocery, which Georgia and the late Bob Trieb operated from 1953 to the mid 1970s.
The Triebs converted the former grocery store into their home, though they had plans to build a home nearby.
Those plans didn't come to fruition, but the land now is home to a garden and greenhouse, as their daughter, Marilee Drennan, with help from her husband, Dave Drennan, built up their plant business.
Marilee formerly had a government job but eventually decided to turn a hobby into a business. Dave, who is a technology instructor at Southwest Junior High School in Lawrence, pitches in as well.
"We just enjoy the garden and the greenhouse," Marilee said.
The business, at 21963 Tonganoxie Road, officially opens Sunday, but Marilee sold plants March 17 at Myers Hotel, 220 S. Main, in Tonganoxie. She said the sale "went really well" and plans to again sell plants from 7-11 a.m. Sunday, and at the same time on upcoming Saturdays April 7 and May 5.
Otherwise, the business will be open or available all day every day in April and May, aside from May 19 when youngest daughter Eva graduates from Tonganoxie High School. Marilee's family moved back into her childhood home to live with Georgia, so they are available at Trieb Corner much of the day.
"We're just here," Marilee said. "We don't have any wild parties or anything. If anyone wants something at 7 o'clock at night, they can have something at 7 o'clock at night."
There's much family history in the property. And Marilee's brother Marty lives next door. As a youth, she said she helped at the grocery store by making sandwiches for workers in the nearby Stranger Bottoms. She also was the first in her family to not attend school at the Mayginnis one-room schoolhouse just down the road as she attended school in Tonganoxie. She's come full circle in a sense with operating the greenhouse and garden on the family property.
She said she wanted to start small and add on "as the business allows."
"I want it to be small. I want it to be quaint," Marilee said. I want it to have a niche. I don't care that it's not a huge garden center."
The Drennans purchased their 900-square-foot greenhouse from Cindy Murry, who operated Lost Corner Farm greenhouse. For next year, they plan to add a heater to the greenhouse to expand its growing season.
Their offerings include asparagus, broccoli, potatoes, pansies, rhubarb and strawberry plants, to name a few. Eventually they will have ornamental grass and other plants and vegetables, including 16 variations of tomatoes, which Marilee said are popular with customers.
Visitors coming from the south have to travel a few more miles because County Road 5 is closed south of the business for bridgework. But the road is expected to reopen next month.
Marilee will welcome the traffic as she gets ready for season No. 3 at Trieb Corner.
"I've tried to decide how to market the greenhouse business," Marilee said. "I know that people can get plants at Walmart and at other places.
"But I think what makes this unique is we are trying to do local items that we've put into the garden if we don't sell it."