Holroyd to continue softball career at
KCKCC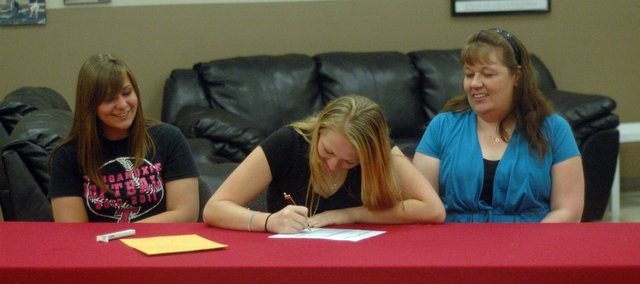 It's been nearly a whole year since Amanda Holroyd decided where she'd play college softball. The Tonganoxie High senior made it official on Wednesday when she finally put the ink to the paper.
Holroyd signed a national letter of intent to continue her career next season at Kansas City Kansas Community College. The move will be a homecoming of sorts for Holroyd, who lived in Kansas City before moving to Tonganoxie as a third-grader.
"I've known since last softball season," she said. "I'm from Kansas City and (KCKCC) is close to home, so I decided to go there. It's where all my family lives."
"I think it's every high schooler's dream to go on and play at the next level, and now that I get that opportunity."
Primarily a third baseman, Holroyd made her varsity debut late in her sophomore season, but according to coach Lee Matzeder, the move was probably passed due. Once being promoted from the junior varsity squad, she hit above .400 for the remainder of the 2010 season.
"The girl we had was a returning starter, so that's why we went with her (instead of Holroyd)," Matzeder said. "But then we brought Amanda up and she just exploded."
As a junior, Holroyd never relinquished the starting spot at third. She hit .315 and belted five home runs. Her efforts didn't go unnoticed by her peers, as she was named All-Kaw Valley League honorable mention. She also made some noise with her glove, finishing the year with a fielding percentage above .900.
When she's not playing third this season, Matzeder said he plans to use Holroyd at shortstop and pitcher as well.
The Chieftains finished the 2011 campaign at 11-11, falling to Basehor-Linwood in the regional finals. Before she hangs up her red and white jersey for good, Holroyd hopes she can lead THS to a record above .500 and more than just an appearance in the regional championship game.
"A trip to state would be great," she said. "We almost made it last year, but just having a fun, winning season would be nice."
She helped start the team off in the right direction, as the Chieftains opened the season Monday with a two-game sweep of Bishop Ward.
As Holroyd's senior season unfolds, Matzeder expects to see improvements across the stat sheet. Furthermore, he expects her to represent the Chieftain program well in the collegiate ranks.
"She's been great, not only as a hitter and a fielder, but a leader as well," Matzeder said. "She'll do well. She's a leader and she has a strong work ethic. I have no reason to think that would change when she gets to KCK."