100
AND

COUNTING

: Tonganoxie City Hall hits century mark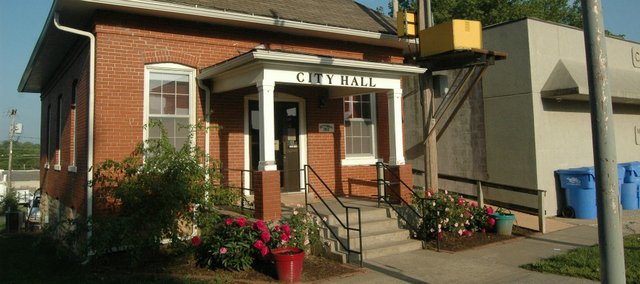 Any city official likely would be more than happy to build a municipal office for $1,650.
That was the price tag for Tonganoxie City Hall in May 1912, according to Mirror articles published at the time.
Now, a century later, City Hall operates much as it did when it first opened.
The actual construction bid — the lone bid for the structure was $1,850 — was reduced by $200 as the city at the time opted for a shingle roof instead of the metal roof originally proposed.
"They got a good bargain for $1,650," said Bill Peak, a current council member and member of the Tonganoxie Community Historical Society. "But metal, they decided against that."
The building, at 960 square feet, is still used for city offices today. It houses a staff of five, said Mary Conway, municipal court and deputy city clerk.
Though the original city hall was designed with jail cells and a fire hose apparatus in the basement, police and fire departments have moved — but not far. The police department is across the street as the city continues to decide the future of a new station. The fire station is a few blocks to the east down Fourth Street. Next door are city council chambers where municipal court also convenes.
"I have an appreciation for it being 100 years old," Peak said. "It's a big part of the city's history. I think we can celebrate that, not just for the building, but also for our town's past and its future."
Before the 100-year-old building could be constructed, the previous city hall had to be moved. Ben McKeehen was the highest bidder at $101, according to a Mirror article dated May 23, 1912. McKeehen converted the hall into a residence. Peak asked that anyone with information about where the structure was moved to call him at (913) 845-2852.
The same month McKeehen purchased the former city hall there was a meeting on women's voting rights for "those who enjoy a treat whether they believe in equal suffrage or not," according to The Mirror.
Though hot-button issues these days are slightly different, Peak said he hopes residents — especially the younger population — take notice of the city's history and help shape its future.
He also hopes the city hall building is part of Tonganoxie for years to come.
"I'm not for anything being razed if we don't have to, but understand the need for a building to have a purpose," Peak said. "I'm sure something could be done with it."
The current city council is looking to commemorate the 100-year anniversary of City Hall, possibly next month at Tonganoxie Days.