Chieftain bats fall silent in losses to Basehor-Linwood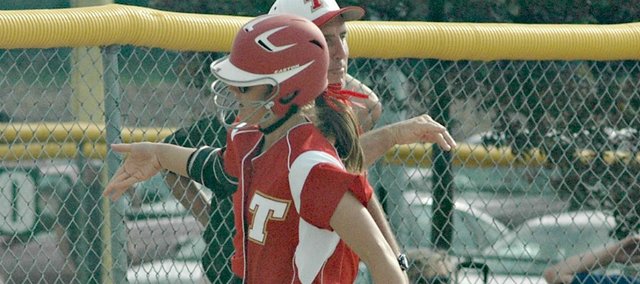 Photo Gallery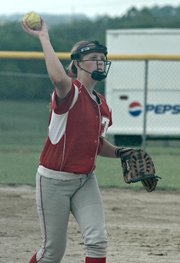 THS softball at Basehor-Linwood
The Tonganoxie High softball team dropped two games Tuesday at Basehor-Linwood. The Chieftains fell to the Bobcats by scores of 9-2 and 12-2.
Basehor — The last time Basehor-Linwood and Tonganoxie met on the diamond, the Bobcats eked out a 2-1 victory to advance to the 2011 state tournament. This time around, things weren't quite as even.
BLHS pitcher Brooke Redmond kept Chieftain hitters off balance all night, striking out a combined 23 hitters and allowing the Bobcats (16-2) to cruise to back-to-back wins Tuesday at the Basehor Field of Dreams complex. They defeated the Chieftains (6-10) by scores of 9-2 and 12-2.
"It took us a couple innings to get going, but the Brooke settled down," BLHS coach Susan Mayberry said. "We started changing up our philosophy with our pitching and where we were going to locate."
Neither team managed to score in the first two innings of the opener, but the Bobcats broke through with a four-run to third to take control. Meanwhile, Redmond found a groove and kept the Chieftains from answering the scoring burst.
Redmond struck out 13 batters in the first game, including a span of six straight in the fourth and fifth innings.
"Obviously, good pitching can beat good hitting, and they have a good pitcher," Chieftain coach Lee Matzeder said. "That first game, we had eight hits off of her, but also 13 strikeouts."
The Bobcats added three runs in the fifth and two in the sixth to push their advantage to 9-0. THS avoided a shutout thanks to a two-run home run by Kailan Kuzmic in the seventh.
Unlike in the first game, BLHS jumped out to an early lead in the nightcap, thanks to a three-run home by Hannah Tush in the first inning.
Tush gave THS fits all night, going a combined 7-for-7 with six runs batted in. She was a single short of the cycle in the second game.
"Hannah is coming around and we need her to," Mayberry said. "She provides a lot of energy and leadership, so it's important for her to get on base. She worked out a few kinks in her swing."
After watching the deficit grow to 5-0, the Chieftains fought back with two runs of their own in the third inning. Kuzmic led off with a double and came around to score on an RBI single by Marissa Martin, then Lainy Walker drew a walk with the bases loaded.
That's all the offense THS could muster, though, and the Bobcats reeled off seven unanswered runs to put the mercy rule into effect after five innings. Redmond had a solo home run of her own during the game-ending stretch.
Several BLHS runs were products of Chieftain mishaps, as they gave the Bobcats extra base runners with walks and errors throughout the game.
"We've got to make them get base hits to beat us," Matzeder said. "They're a good team. They're 16-2 now, so they're no slouch."
Both teams will be back in action Thursday against Kaw Valley League. The Bobcats will travel to Turner, while THS will return home to face Bonner Springs on senior night.
"That would be great for (the seniors) to win in their last two games at home," Matzeder said. "Not only for momentum, but it would be nice just for them to get a win or two. There's no reason why it can't happen."
Game 1
THS 000 000 2 — 2
BLHS 004 032 X — 9
Leading hitters
TONGANOXIE — Kailan Kuzmic 2-4, HR, 2 RBI; Marissa Martin 2-2; Makayla Leslie 2-3.
BASEHOR-LINWOOD — Hannah Tush 4-4, RBI; Kayleigh Schoenfelder 2-3, 2 2B, 2 RBI; Candice Jennings 1-2, 2B, 2 RBI; Courtney Leive 2-3, 2B.
Game 2
THS 002 00X X — 2
BLHS 320 34X X — 12
Leading hitters
TONGANOXIE — Marissa Martin 1-3, RBI.
BASEHOR-LINWOOD — Hannah Tush 3-3, HR, 3B, 2B, 5 RBI; Courtney Leive 3-4, 2B, RBI; Kayleigh Schoenfelder 3-4, 2 RBI; Brooke Redmond 1-3, HR, RBI.