Softball class of 2012 out for redemption at regionals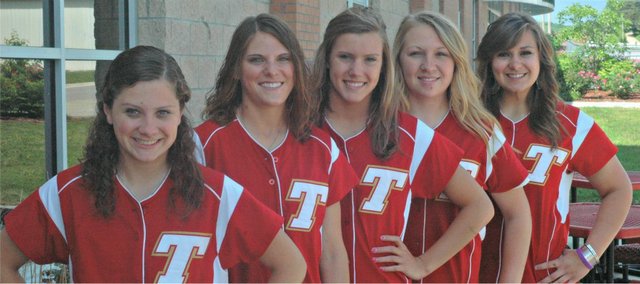 As the 2012 softball season comes to a close, last year's regional tournament is still fresh in the minds of Tonganoxie High's returning players. Arguably none remember it better than the five members of this year's graduating class.
A No. 5 seed at last year's regional, the Chieftains made an improbable run to the finals before seeing their state tournament hopes dashed in a 2-1 loss to Kaw Valley League rival Basehor-Linwood on the Bobcats' home turf. With a return trip to regionals just around the corner, seniors Amanda Holroyd, Maggie Gripka, Makayla Leslie, Haley Smith and Kailan Kuzmic have a different outcome on their minds.
"We literally were just that close to getting it last year. It was kind of a sour punch to end the season," Smith said. "(Getting to state this year) would be amazing. I've never been to state in any of the sports I've played, and I'm playing sports year-round. It's a feeling I wouldn't even be able to explain."
The 2012 campaign has been somewhat of a roller coaster for THS, which entered Tuesday's makeup doubleheader at Basehor-Linwood with a 6-8 record. The Chieftains have shown the ability to explode at the plate — such was evident in sweeps of Bishop Ward, Turner and Pleasant Ridge — but have also suffered rough offensive outings against the likes of Mill Valley, Piper, Lansing and Spring Hill.
However, with a handful of regular season games left, including Thursday's senior night doubleheader against Bonner Springs, Gripka is confident there is still enough time to steady the ship.
"There are a lot of (seniors), so we feel like we should be able to make an impact," Gripka said. "We've been winning some and losing some, but I think we really want to go on a strong run to end the season."
Experience has hardly been an issue for this year's senior class, as all five players have seen time at the varsity level for at least three seasons. During that time, they gained valuable knowledge of the game from players such as 2010 grad Lindsey Fatherley and 2011 grad Kaitlyn Wolken, who both advanced to the collegiate ranks.
According to Leslie, who has been on varsity since her freshman campaign, sharing the field with players of that caliber gave her and her fellow seniors the leadership traits needed to piece together a run to this year's state tournament.
"I think it set really high expectations for us," Leslie said. "Being with them set the bar that much higher for how I wanted my senior year to be."
In addition to their experience as softball players, the camaraderie shared between the seniors is rooted well past their days in Chieftain uniforms. Most of them played competitive softball together as early as middle school, and that friendship has branched out well beyond the diamond.
"Compared to the other sports I've played, softball is my favorite," Holroyd said. "I feel like we all get along, for the most part. We have fun together. We just all act silly and goofy, and I think that helps us on the field."
Following Thursday's home games against the Braves, THS will close out its regular season Monday with a doubleheader at Baldwin. Regional tournament action will begin on May 14 at Basehor's Field of Dreams.
Rest assured, when the Chieftains return to Basehor, last season's exit will be anything but an afterthought.
"We still talk about it to this day," Kuzmic said. "A game like that, it's just more motivation to push us. It's something that we've really wanted to do, especially after last year. It would just be really great to get to state."