Three Chieftain seniors to play college soccer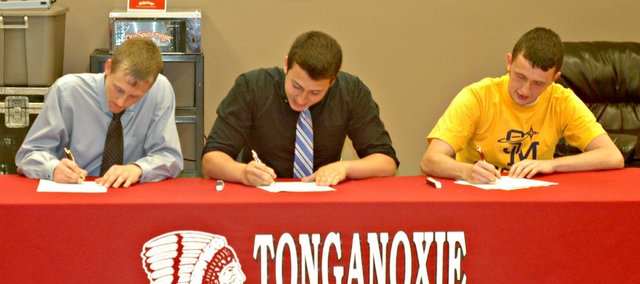 The last two seasons have been quite the journey for the Tonganoxie High boys soccer team. Last week, three Chieftain seniors guaranteed their journey wasn't over.
Last Wednesday in the THS Chieftain room, Matt Swaim, Matt Briggs and Tyler Bartholomew all signed national letters of intent to play in the collegiate ranks. Swaim and Briggs will both continue their careers at Manhattan Christian College, while Bartholomew will head to the University of Saint Mary in Leavenworth.
"I don't see (MCC and USM's) programs being worse by having those guys out there," Chieftain coach Brian Kroll said. "All they're going to do is improve."
Injuries throughout the trio's junior campaign led to a less-than favorable regular season record — just one victory in 16 games — but the return of key players led to an improbable run to the regional finals. That success translated to a 9-6 mark last season and a trip to the 2011 state quarterfinals, which the Chieftains reached by defeating Maranatha Academy in penalty kicks.
"I don't think I can explain (the transformation) in so many words," Swaim said. "It just took determination. I don't even know how else to explain it."
For Swaim, picking a college destination was a simple task. His sister, Sarah — a 2010 THS graduate — attended the school, and he already had several friends on campus.
The decision wasn't always so clear for Briggs, but he admitted having a teammate already committed to the program made the move much simpler.
"I wasn't really decided on anything. My family was K-State, so I really wanted to go to K-State," Briggs said. "Being able to play soccer at MCC and go to K-State, it's like the best of both worlds. When I said I was going to college, I knew it would help to have that one guy to be there with me. That way I could have at least one friend and we could start branching out, so I think it will help."
Swaim and Briggs will join a Crusader team that went 13-9 last season, highlighted by a fifth-place finish at the NCCAA national tournament.
"I love the environment and I'm just ready to be a part of it," Swaim said.
Bartholomew's progression through the Chieftain program wasn't always as fluid as that of his teammates. After originally deciding not to go out for soccer as a freshman, he joined the team two weeks into the preseason. Three years later, he was named a team captain.
Following the conclusion of his final high school season, he spoke with THS coach and current USM assistant Justin Seever about joining the Spires, and the rest is history.
"It's something I've been trying to get taken care of for a while, but being here with all my friends and family makes it worth it," Bartholomew said. "Coach Seever had been talking to me about it for a while. He came up to me over the break and talked to me about it. I talked to my family about it for a few weeks."
USM went 2-16 a year ago, including victories over William Penn and Bethel College.